The Vatican criticises dissident theologians who set themselves up in opposition to bishops as leaders of the Catholic Church.
In recent years, the Vatican has become increasingly concerned about theologians who openly reject the official teachings of the Catholic Church. A 27 page document has now been issued ordering a crackdown on theologians questioning the church on issues such as sex and contraception.
Cardinal Josef Ratzinger, Head of the Congregation for the Doctrine of the Faith, has responded by suspending the teaching practices of dissidents and banning their books in an effort to silence their views. Instruction has now being issued from Cardinal Ratzinger's office to say that theologians must follow the teachings of the church.
The document warns that so called parallel magisterium of theologians can cause great spiritual harm by opposing the authority of the bishops.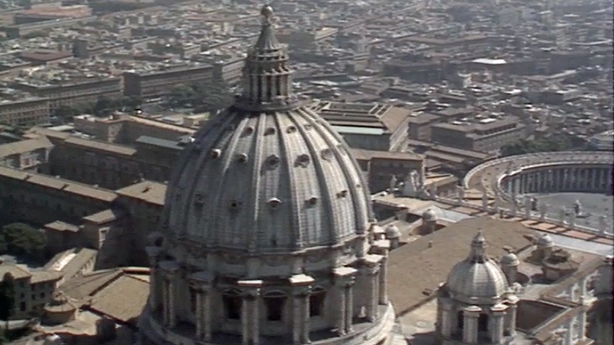 Vatican
The document says that the church is not a democracy and church doctrines are not determined by public opinion.
The document was welcomed by Father Tom Morris, a theology lecturer at Maynooth University and former secretary of the Irish Theologian Society, who said it underlined the role of the church in reinforcing faith.
An RTÉ News report broadcast on 26 June 1990. The reporter is Kieron Wood.