The Bicentenary of Saint Patrick's College Maynooth is celebrated with a special thanksgiving mass.
Cardinal Cahal Daly was the principal celebrant at the ceremony to mark two hundred years of Saint Patrick's College Maynooth in County Kildare.
While the mass was a celebration, there was also a sense of reconciliation with Dr John Moss Moderator of the Presbyterian Church of Ireland and Dr Edmond Mawhinney President of the Methodist Church in Ireland both in attendance. Former President Patrick Hillery was also amongst the congregation.
Maynooth has made a unique contribution to the fabric of Irish society both past and present.
Over eleven thousand priests have been trained at the college over the past two hundred years.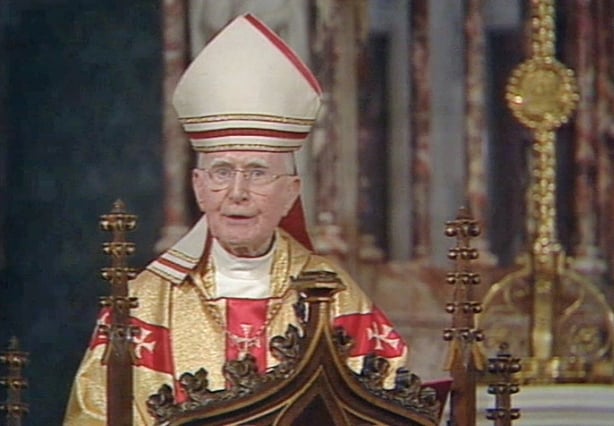 Cardinal Cahal Daly speaking at the Bicentenary of Maynooth College (1995)
Addressing the congregation, Cardinal Daly commended the contribution that priests have made to various aspects of life in Ireland and abroad over the years describing both priests and lay workers as,
Often the only caring presence in a concrete jungle.
He also spoke of the worrying concern of the decline in vocations in recent years.
In an interview in today's Sunday Tribune, Bishop of Ferns Dr Brendan Comiskey, said that the Catholic Church must consider allowing priests to marry in order to halt the decline in vocations. However, at today's celebrations in Maynooth, the Archbishop of Dublin Dr Desmond O'Connell refused to be drawn on the question of celibacy in the priesthood saying that they were there to celebrate the bicentenary of Maynooth and nothing should get in the way of that.
An RTÉ News report broadcast on 11 June 1995. The reporter is Michael O'Kane.