Guns used in Ireland between 1916 and 1921 are presented to the National Museum of Ireland.
Three guns used during the years 1916 to 1921 are presented to the National Museum by Mr Sean O'Duffy, a member of the Irish volunteers.
Now 94 years old,Sean O'Duffy was a member of the First Battalion of the Irish Volunteers. During the 1916 Rising, he was in action around the North King's Street and Brunswick Street areas of Dublin.
One of the guns presented was a Webley & Scott .32 pistol that was carried by the detective who guarded General John Maxwell, General Officer commanding the British forces in Dublin during the rebellion.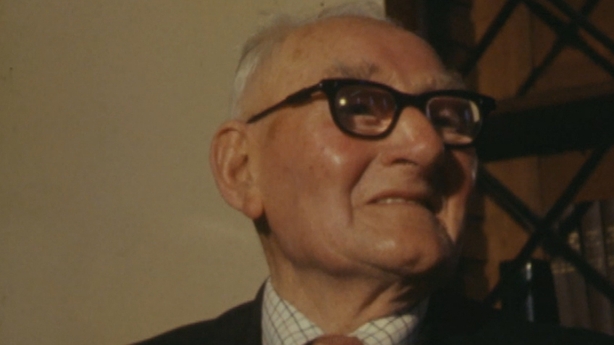 Irish Volunteer Seán O'Duffy (1980) at the National Museum of Ireland
The detective who later acted as a double agent for the Irish Republican Army (IRA) gave the pistol to Sean O'Duffy when he returned from Wales and England where he had been imprisoned.
Already part of the National Museum's collection is the uniform worn by Sean O'Duffy during his imprisonment.
The pistol, along with the other two IRA rifles, will now go on display along with the other mementos of the 1916-21 period of history.
An RTÉ News report broadcast on 13 April 1980. The reporter is Colm Connolly.