Freezing fog makes driving dangerous and exacerbates the ongoing problem of smog in towns and cities.
Drivers around the country are urged to continue to take care on the roads, as the current high pressure weather system means that cold and foggy weather is set to continue.
Dublin city centre was under a thick blanket of smog this afternoon, with well-known landmarks barely visible.
This is not good news for those who already suffer with their health, says Dr Luke Clancy, consultant chest physician at St James' Hospital,
People who live in this city have a higher incidence of bronchitis, of lung cancer, of emphysema, and a greater chance of exacerbations of asthma than those who live in rural districts...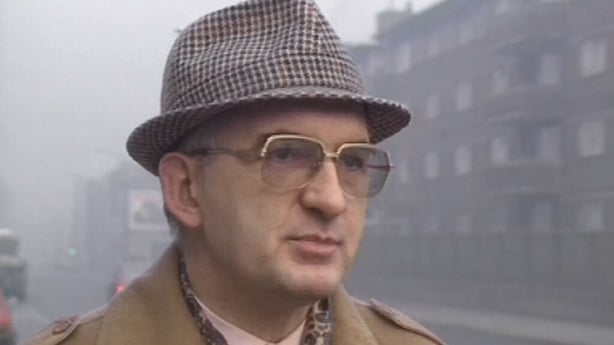 Dr Luke Clancy (1989)
He advises those who are ill or who have chest conditions to stay indoors and keep rooms warm and ventilated.
Junior Environment Minister Mary Harney says it is not simply up to government to solve the problem and appeals to Dubliners to stop burning smoky fuel during this time,
The majority of citizens in Dublin have alternative sources of heating and I'd like to ask them to use them.
Mary Harney has also submitted proposals to government to consider banning smoky coal in the city and county and putting a tax on coal. Revenue generated this way can be used to bring down the price of alternative low smoke fuels.
An RTÉ News report broadcast on 2 December 1989. The reporter is Tom Kelly.