Despite great demand in Hollywood for the work of Graham Knuttel the artist has no intention of moving to Los Angeles.
One of Ireland's leading artists has decided to stay in Ireland despite lucrative offers of work from Hollywood stars. Graham Knuttel's work can be found in sixty countries throughout the world, either in art galleries or private collections.
To own a Knuttel painting in that part of the world has not only become fashionable but almost socially imperative.
Graham Knuttel has done paintings for Sylvester Stallone and Elisabeth Taylor's vet. However he felt that some star clients were very pushy and tried to dictate what he was painting.
I felt that they were trying to turn me into a bit of Hollywood.
The artist describes how people's perception of colour is changing as a result of television, film and modern printing methods.
Graham Knuttel's paintings range from social comment to self parody. Many however reflect inner conflicts observed in friends and strangers alike. Most striking is the vibrancy of colour in all his work.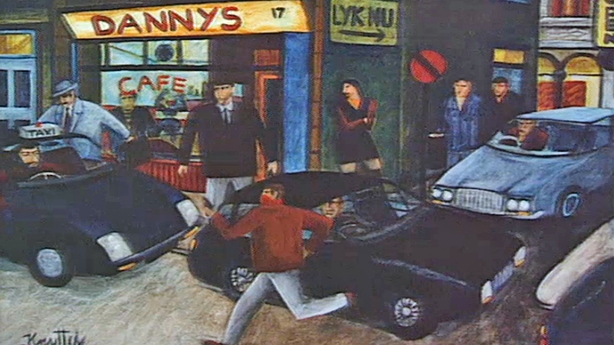 Graham Knuttel Painting
Once a painting is completed all Graham Knuttel can sees are the faults. He does, however, look forward to painting the perfect picture.

An RTÉ News report broadcast on 11 November 1994. The reporter is Colm Connolly.