A Dublin publican plans to run a marathon on Mount Everest.
Eugene Kavanagh, proprietor of the Kavanagh's pub in Glasnevin, better known as The Gravediggers, is preparing for his biggest challenge yet. The man who took up running marathons at the age of 42 has been training to run a marathon on Mount Everest in aid of charities in Nepal.
The race is preceded by a seventeen day trek to the starting line, and having acclimatised to the altitude during that time, the international group of fifty marathon runners, accompanied by a team of doctors and scientists will cross the starting line at 17,000 feet above sea level and finish at 10,000 feet. Eugene's is the sixth generation of the Kavanagh family to run one of Dublin's most famous pubs located next door to Glasnevin Cemetery.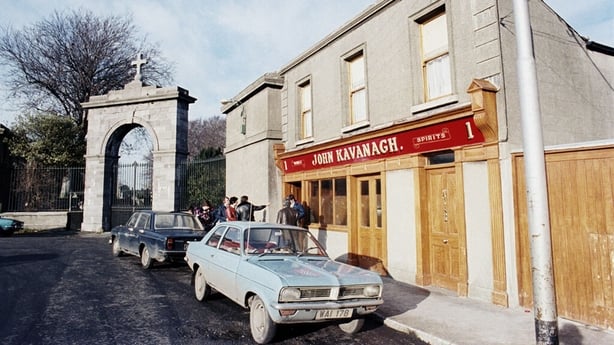 The Gravediggers Pub, Prospect Square, Glasnevin (1976)
He has completed sixty five marathons himself and the Kavanagh Striders between them they have completed almost 500 marathons.
We're a crowd of semi-headcases who run marathons.
This episode of 'Kenny Live' was broadcast on 4 November 1989. The presenter is Pat Kenny.