Despite local doubts, two Galway men are taking their hobby to new heights by building their own aircraft.
Padraig Forde, an AnCO instructor, and Donal Connaire, a teacher, both from the village of Bullaun, County Galway are also qualified pilots.
Three years ago they decided to build their own aeroplane and since then have been working off instructions from a small Sonerai low-wing aircraft in their spare time. Designed in the 1970s by American John Monnett, it has proved popular with amateur aviators, with over 2000 built from kits to date.
Their progress is watched with amusement by locals, as the plane at this stage must be wheeled between their respective workshops once or twice a week. There is huge satisfaction in a project like this, says Padraig Forde,
The biggest achievement of all is that it will fly.
There have been some setbacks though, as the cost of importing some materials was higher than expected, and a special license is even required for the welding work. In the long run, thousands of pounds are saved when you can build a plane yourself.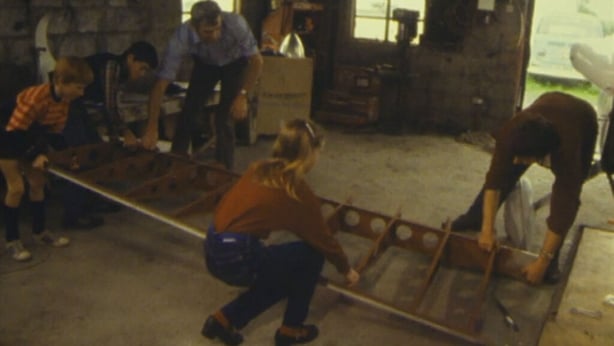 Attaching a wing to the Sonerai (1984)
And while the Sonerai's seemingly flimsy structure may induce nerves in some, Padraig and Donal have enough flights under their belts to be fully confident in its capabilities. All going to plan, they will take to the east Galway skies next spring.
There's no risk, no more than cycling or driving a motor car.
An RTÉ News report broadcast on 14 September 1984. The reporter is Jim Fahy.