Angling competitions in Belmullet and Killala saw new Irish records set and rare varieties landed.
Two hundred anglers gathered in Belmullet for a two-day international sea angling competition, where local fishermen and those from further afield caught over twenty different varieties of fish in Broadhaven and Porturlin Bays.
The awards ceremony is held in The Square in Belmullet, where Michael McVeigh from the Donaghadee Club is the overall winner, having caught a total of thirteen varieties in two days.
Further up the coast at Killala Bay, the Sunset Sea Angling Club from Enniscrone held its first two day competition, with ninety anglers taking part. A conger eel is one of the more unusual catches of the event. The overall winner here is local man Edward Rafter who takes home a portable television set.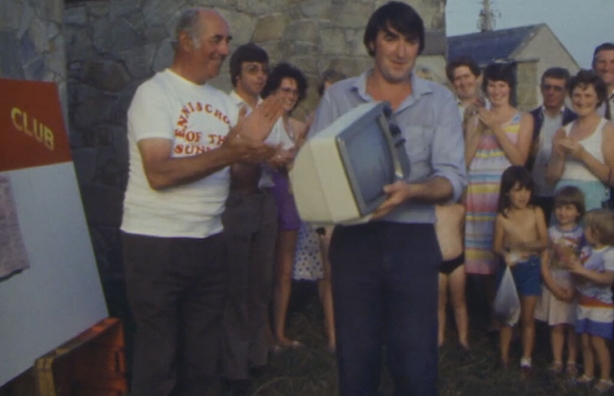 Edward Rafter with a portable TV set, Enniscrone (1984)
An RTÉ News report broadcast on 11 September 1984. The reporter is Des Cahill.