Rosc a poetry of vision that brings international contemporary to the Guinness Hop Store in Dublin.
Rosc '84 is an exhibition of modern and contemporary art from Ireland and around the world for an Irish audience.
Rosc means Poetry of Vision and certainly there is much to catch the eye as international and Irish artists combine to bring the world of contemporary art to Dublin.
All the works on display were made in the four years since the last Rosc exhibition was held.
Rosc has led the way in bringing modern art to this country and aficionados will find much to love or hate in this newest collection.
The exhibition combines the latest expressionist paintings from home and abroad with examples of design and conceptual art.
Rosc '84 formally opened by President Patrick Hillery consists of 164 exhibits from foreign and Irish artists. The exhibition includes works from Gilbert and George, Joseph Beuys, Richard Serra, Vladimir Velickovic, Richard Long, Carl Andre, Ellsworth Kelly. For the first time at Rosc three of the Irish artists are women, Anne Madden, Deborah Brown and Eilis O'Connell.
Rosc '84 opened to the public on 25 August at the newly restored Guinness Hop Store at St James' Gate, Dublin. Patrick Murphy, Chairman of Rosc '84, describes the venue as a unique new space and praises the work of Cecil King, Head of Installation.
We've tried to choose the exhibition to suit the spaces.
His personal favourite pieces in the exhibition include paintings by Gérard Garouste and Anselm Kiefer, sculpture by Robert Morris and Richard Long, and a piece created specifically for Rosc '84 by Gilbert and George.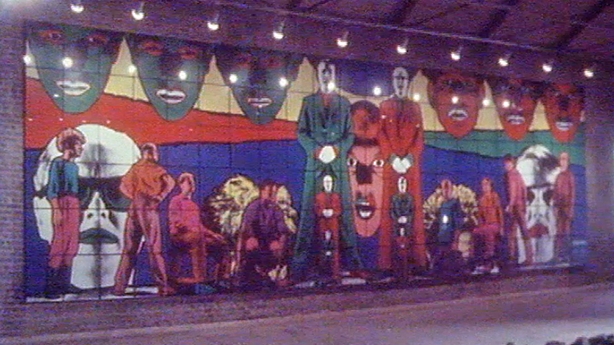 Drunk with God by Gilbert and George, Rosc '84
We're very proud of it and we even dare to think it's the most important exhibition of contemporary art in the world this year.
This is the fifth Rosc and the exhibition has taken place every four years since 1967. It will run until November. Admission is £2.00 for adults and 50 pence for children, senior citizens and the unwaged.
An RTÉ News report broadcast on 24 August 1984. The reporter is Alan McCullough.