A World War II airman is in Dingle to remember the rescue of his B-17 bomber crew who were forced to ditch in the Atlantic.
A wartime air crash survivor William Young returns to meet the Kerry people who rescued him from the sea in 1944 after he and seven other crewmen ditched their plane in the Atlantic and drifted for five hours.
The B-17 Flying Fortress was one of the first big American bombers, one of the best known and successful of the wartime aircraft. It was the workhorse of the United States Air Force based in Britain and played a major role in the war. It was used and suffered heavy losses on the day time bombing raids over Germany.
On the night of 29 May 1944, the B-17 nicknamed 'Badger Beauty' was on a mission which took it six hundred miles off the west coast of Ireland over the Atlantic. The RAF's William Young was on board with seven American crew members. During the flight an engine started smoking and the crew continued flying on three engines. As the aircraft lost height it was decided to dump the heavy long range fuel tanks which were dropped out of the bomb bay doors. The pilot headed for the nearest land along the Kerry coast.
The plan was for the crew to bail out but as they approached the coast the crew saw Mount Brandon looming up above them. They decided to ditch.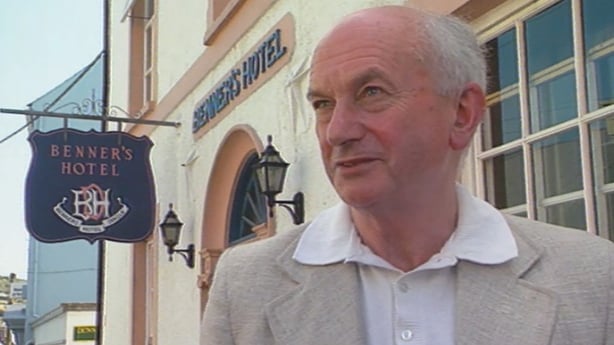 Survivor William Young outside Benner's Hotel (1989)
The B-17 only stayed in the air for about two minutes following the decision to ditch. Survivor William Young describes what happened as the plane hit the water and he was knocked unconscious. After regaining consciousness, he describes his lucky escape unaware of how the rest of the crew had got out.
The crew spent five hours in two dinghies in the Atlantic. When daylight broke, they were rescued by Kerry locals.
Maurice O'Connell was one of the rescuers who had rowed out in a currach from Ballydavid. After forty five years, the two men, rescuer and survivor, were reunited this week. William Young also returned to the house where the crew were fed and to Benner's Hotel where they spent the night before being sent back to England. William Young was back in Kerry to unveil a plaque remembering the crash and the rescue.
The 'Badger Beauty' still lies in one hundred and fifty feet of water five miles off the Kerry coast.
An RTÉ News report broadcast on 1 August 1989. The reporter is Andrew Kelly.