Versions of Irishness feature in an exhibition of rare books at Marsh's Library, Ireland's oldest public library.
The collection on display is taken from 25,000 books from four major collections spanning three hundred years.
It paints a vivid picture of Ireland from the work of the sixteenth and seventeenth centuries.
The exhibition includes rare works by scholars closely associated with Marsh's Library, which opened to the public in 1707 and was the first public library in Ireland.
The exhibition was opened by the Most Rev Donald Caird Archbishop of Dublin and Michael D Higgins Minister for Arts and Culture. Mr Higgins was presented with a special copy of the catalogue by the library's keeper Muriel McCarthy. Michael D Higgins describes the intellectual collection as reflecting a tapestry of our Irishness.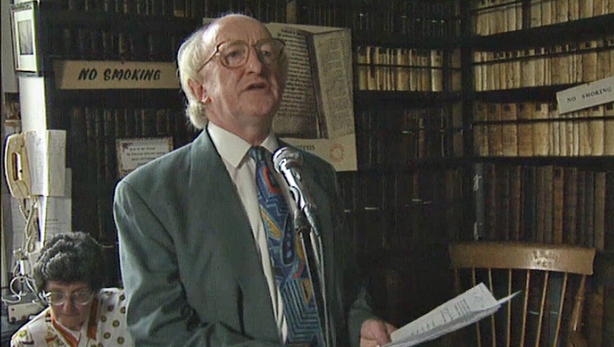 Minister for Arts and Culture Michael D Higgins speaking at the opening of the exhibition at Marsh's Library (1994)
An RTÉ News report broadcast on 1 July 1994. The reporter is Mark Little.