Seven hundred years of Irish history in an exhibition of one hundred documents at the National Library of Ireland.
One hundred items on display and covers seven hundred years of our history.
Among the works on display are a ninety four year old Irish Times calendar, a 1916 commemorative poster published in New York, the first Fianna Fáil administration, the Phoenix Park Murders of 1882, a British Army recruiting poster, a 1918 anti-conscription pledge, a 1932 election poster warning about the threat of Communism, and Gladstone and the Home Rule banner.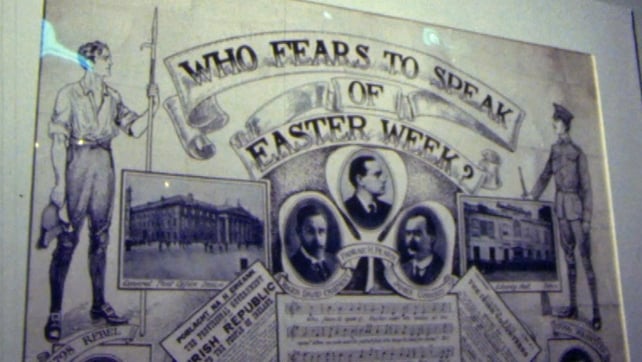 1916 Commemorative Poster
The exhibition coincides with the launch of over two hundred slides of documents from the National Library as an aid to teaching Irish culture and history in schools.
An RTÉ News report broadcast on 16 November 1978. The reporter is George Devlin.