The thalidomide drug was sold as a sedative and to alleviate nausea during morning sickness in pregnant women. It soon became apparent that it caused malformation in newborn babies.
The German manufactured thalidomide drug, sold under the brand name of Softenon in Ireland
The drug was introduced to the Irish market in early 1959.
TP Whelehan Son & Co Ltd based in Finglas, Dublin were the Irish agents for thalidomide. They sold it in tablet and syrup form predominantly under the brand name 'Softenon'.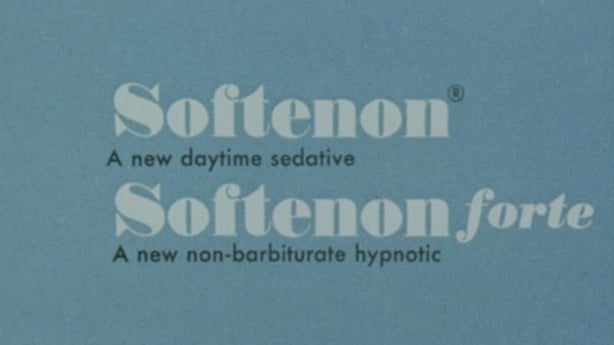 Softenon
The drug was labelled as safe and went on sale over the counter without a prescription in chemist shops throughout Ireland. It was also stocked in dispensaries, surgeries, hospitals and maternity homes.
It was administered as a sedative to teething infants and of course Softenon gave many a pregnant woman a good night sleep.
Sales of the drug rocketed and in 1961 alone over 51,000 bottles of thalidomide syrup was sold in Ireland. In late 1961, Dr Widukind Lenz, now a professor at the University of Münster, was the first to raise alert over the dangers of taking the drug during pregnancy. He witnessed an epidemic of malformation in new born babies that had broken out in the Federal Republic of German which he believed had been caused by the mothers of the affected children taking thalidomide while pregnant.
Following the report, Chemi-Grünenthal, the German company that created and marketed thalidomide, acted. On 27 November 1961, they withdrew thalidomide from the market. The West German ministry and the media reacted promptly warning women not to take the drug. Chemi-Grünenthal issued instructions to their agents around the world.
Withdraw thalidomide immediately.
This episode of 'Seven Days' was broadcast on 7 June 1974. The reporter is Nick Coffey.