More wine than ever is being consumed in Ireland with over one hundred and fifty varieties now available.
With a range of beverages from Mitchell & Son Wine Merchants expert TP Whelehan offers a guide to what is on offer to Irish consumers.
As the popularity for wine drinking increases, the Irish public now spends about two million pounds on wine every year.
There are about a hundred and fifty different varieties of wine on sale.
Tom Whelehan points out that the most expensive wine is not necessarily the best value for money.
While there are a hundred and fifty labels on the shelf, there are basically only three types of wine red, white and rosé.
He goes on to describe the varieties of wine available which he believes gives it an advantage over other beverages.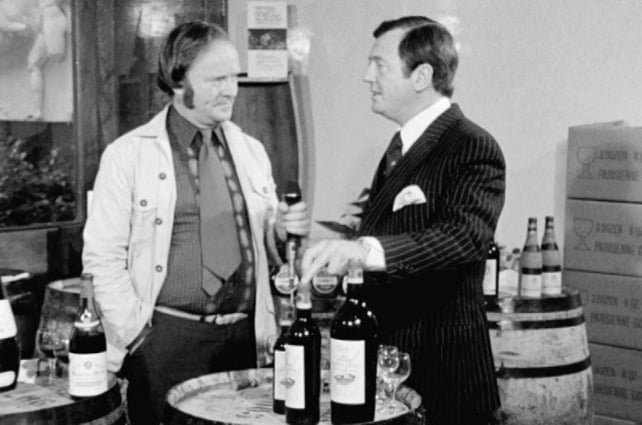 John O'Donoghue and TP Whelehan (1973)
Much of the cost is duty charges and bottling costs meaning the producer gets a small portion of the overall price.
From old world to new world wines your choice of wine should depend on what you like, the occasion and how much you are willing to spend.
This episode of 'Tangents' was broadcast on 13 December 1973. The reporter is John O'Donoghue.