Zig and Zag the alien brothers from Zog host The Late Late Show.
The Late Late Show audience are welcomed to the show by the new hosts Zig and Zag the alien brothers from Zog. With new presenters, come new rules, but the audience are reassured by the brothers,
Don't worry about Gaybo he's going to be back on 'Dempsey's Den' on October the third.
As usual on 'The Late Late Show' there is a wealth of prizes for everyone in the audience, which include a trip to Disneyland as well as £15,000 spending money, a Nissan Micra, a Rolls-Royce a jumbo jet and toast.
Zig and Zag promise a stellar line-up of guests for their show,
Michael Jackson and Bing Crosby and the President and Mr Gorbachev and Charlie Hockey.
Gay Byrne appears to reclaim his presenter role just as the brothers are introducing their first guest,
The most amazing man in the world, the king of rock and roll, yes we've dug him up, ladies and gentlemen Mr Elvis Presley.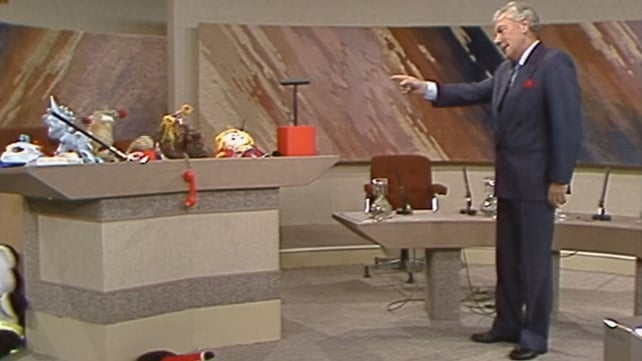 Zig and Zag are given the chance to go quietly, but the brothers refuse, leaving Gay with no choice but to use a detonator to remove the brothers from his desk and studio.
This episode of 'The Late Late Show' was broadcast on 16 September 1988. The presenter is Gay Byrne.