The funeral of former army chief-of-staff and government minister General Seán MacEoin takes place in Ballinalee, County Longford.
During the War of Independence, Seán MacEoin was leader of the Longford Irish Republican Army (IRA) flying column. He and his comrades routed a large force of black and tans, a deed which passed into local legend. He went on to become the Chief of Staff of the army before retiring in 1929.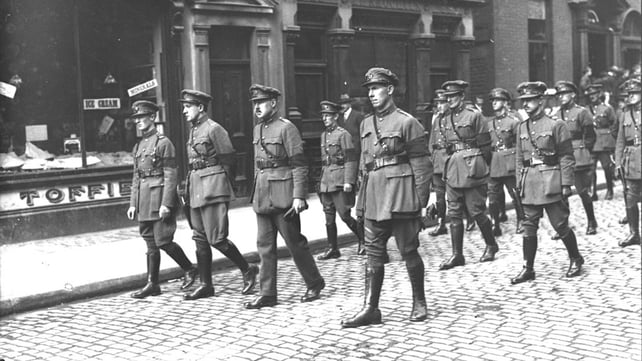 General MacEoin and Free State army officers at funeral procession of Michael Collins, 1922
MacEoin later became Minister for Justice and Minister for Defence in the inter party governments of 1948 and 1954.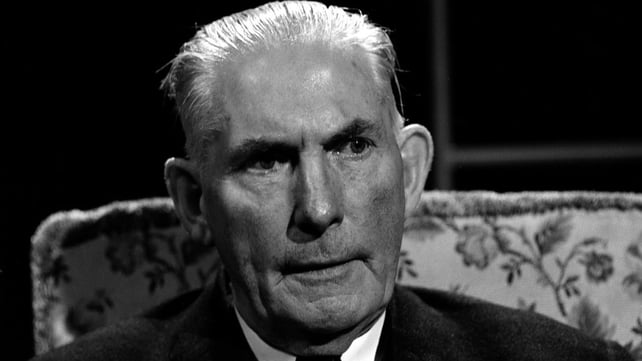 General Séan MacEoin in 1964.
At Seán MacEoin's funeral in the Church of the Holy Trinity in Ballinalee, many local people came to pay their respects to the man known as the Blacksmith of Ballinalee, a title derived from when, as a youngster, MacEoin worked as a blacksmith with his father.
The funeral was a state occasion attended by President Erskine Childers, Taoiseach Liam Cosgrave, Tánaiste and Minister for Health Brendan Corish, Minister for Justice Patrick Cooney, Minister for Local Government James Tully and Minister for Finance Richie Ryan. Chief mourners at the funeral were MacEoin's wife Alice, his brother and three sisters.
The mass celebrant the Bishop of Ardagh and Clonmacnoise Cathal Daly, paid tribute to MacEoin and in an appeal for peace said
There is after 50 years still much unfinished business still to do for Ireland. But the weapons of its completion are no longer rifles and grenades. Violence is not only irrelevant to the Irish nation's august destiny in 1973, it puts in gravest peril, all that has already been achieved; it set back by decades, perhaps generations, the hopes that remain still to be fulfilled, the tools Irish patriotism now are not the drill of war but the politics and the economics of social justice.
Séan Mac Eoin's interment followed with full military honours. Men of the fourth garrison military police flanked the gun carriage from the church to Saint Emer's Cemetery. The Band of the Western Command played the funeral marches. At the cemetery, old comrades from the flying column formed a guard of honour. At the graveside, the last post was sounded and three volleys fired.
An RTÉ News report broadcast on 10 July 1973. The reporter is Eddie Barrett.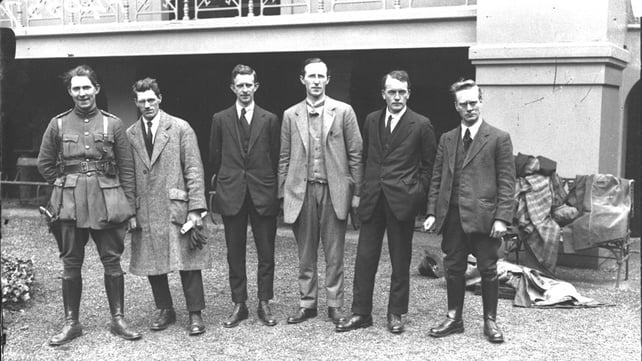 Seán MacEoin, Seán Moylan, Eoin O'Duffy, Liam Lynch, Gearóid O'Sullivan and Liam Mellowes in the early 1920s.