Mondello Park the home of motor sport is the venue for Ireland's first festival dedicated to trucks.
Truck parades, car crushers, stunts, bunjy jumps and lots more at the TruckFest in Mondello Park.
The 'Lady Louise', a state of the art truck all the way from Alaska, is one of the highlights at TruckFest '93, the first trucker event of its kind in the Republic of Ireland.
Sheila McCabe, head of the Road Haulage Association, spoke to reporter Jim Miley about being a woman at the head of the association.
Women are the backbone of the transport industry in this country.
Sheila has been involved in the haulage industry for twelve years and in the association for five years. One of Sheila's aims as president of the association is the improve the image of the haulage industry and of truckers in general. Sheila describes the life of a trucker as hard work and tough with unsocial hours.
Nobody drives a truck unless they're getting lots of job satisfaction.
TruckFest is the first festival of its kind in the Republic of Ireland, and despite the weather, the crowds have turned out demonstrating the interest people have in trucks.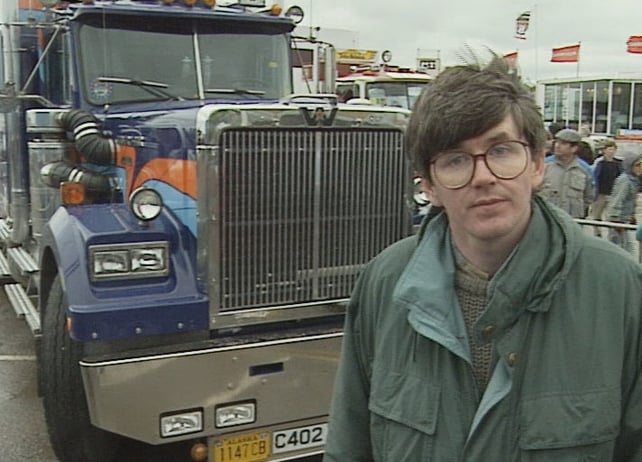 Jim Miley reports from TruckFest '93 at Mondello Park
'Summer Signpost' was broadcast on 15 June 1993. The reporter is Jim Miley.


RTÉ Guide, 4 June 1993