A glimpse into the lives of young men aspiring to become priests at Saint Patrick's College, Maynooth one of the largest seminaries in the world.
An RTÉ film crew spent time in Saint Patrick's Pontifical College Maynooth in 1963, recording the daily routines of the young men there who were studying for the priesthood. In making the film, director Chloe Gibson and her production assistant Patricia Hughes were the first women permitted to enter several parts of the college. Broadcast on Teilifís Éireann on Easter Sunday night, it provided a glimpse into life into what was then the largest English-speaking seminary in the world, founded in 1795.
The seminarians wearing black cassocks, as was customary at the time, attend classes in the college, which is also their home and community.
The chatter and movement shows how eager is the temperament of these men who have deliberately chosen to give up the usual pattern of young life to train themselves to serve God with all the hardship that that might mean in this modern world.
The Daughters of Charity of Saint Vincent de Paul oversee the catering for the college. Meals are eaten in the Refectory, in silence, as they listen to readings from religious texts,
No sound but the voice of the reader above the clatter of the dishes. Grace some thirty five minutes after. Then the murmur of prayers as they leave the refectory. Silence is the rule rather than the exception of their lives.
'Men For The Harvest' was broadcast on 14 April 1963. Written and directed by Chloe Gibson, the commentary is by Padraic Ó Raghallaigh.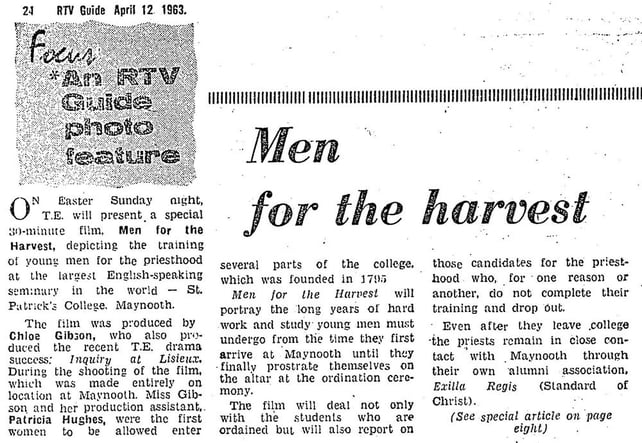 RTV Guide 12 April 1963