The Book of Kells is the inspiration for a French furniture maker living and working in Ireland.
A French designer Guy Monteilhet makes furniture heavily influenced by the creativity of Celtic art. Shay Healy went to meets him to find out about his work.
I don't know how the ancient monks of Ireland would feel about it but I'm sitting on the Book of Kells.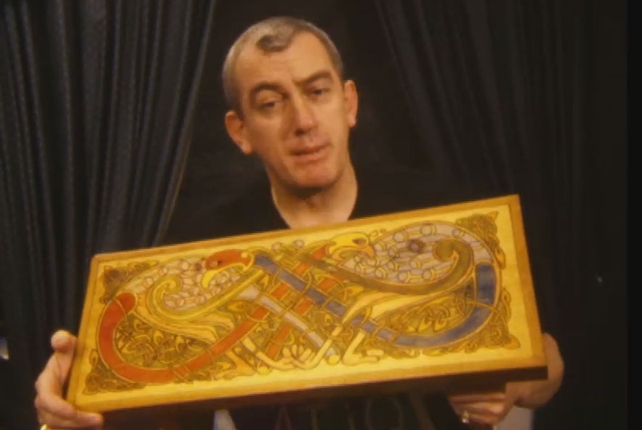 Shay Healy displays Shay a piece of furniture made by Guy Monteilhet
Guy Monteilhe has made furniture using designs from The Book of Kells and describes to Shay his work process.
Initially Guy came for a holiday to west Clare but has been living in Ireland for twenty-five years.
This episode of 'Evening Extra' was broadcast on 14 December 1987. The presenter is Shay Healy.
'Evening Extra' was a nightly magazine programme which ran from Monday to Friday at 7 pm dealing with current issues and people in the news. The first episode was aired on Monday 13 October 1986 and it ran for 278 shows over 2 years until the final show on 29 April 1988. The programme had numerous presenters and reporters including Siobhan Cleary, Richard Crowley, Bibi Baskin, Aonghus McAnally and Shay Healy.