Many of the bronze sculptures situated around the city centre were cast at the Dublin Art Foundry.
Located close by the old Boland's Mill, the foundry has been run as a cooperative since 1984.
It provides a unique service where artists can come in and watch their models at various stages in the casting process.
Bronze art founding is an ancient and painstaking skill. The process begins with wax moulding which is the most popular method for casting finely detailed bronze.
Reporter Teresa Mannion meets wax moulder Edwin Ryan who is working on the head of George Bernard Shaw which is to be cast in bronze and describes the various stages in the process. Edwin is currently working on a bust of Charles Stewart Parnell which has been commissioned by the House of Commons in London. Artist Yann Renard-Goulet drops by the foundry to see how Edwin's work is progressing. Once the casting has been made, the artist will step in to create the final sculpted piece.
This report also features another method of casting known as sand casting, which is more suitable for simple flat surfaces.
Speed and efficiency are vital when pouring the molten bronze because the temperature of the metal is crucial.
We also see sculptor Marjorie Fitzgibbon at work as she prepares nine busts for a company who manufacture electronic aids for the physically handicapped. One of the completed works 'The Laughing Girl' was created to symbolise the spirit of liberation.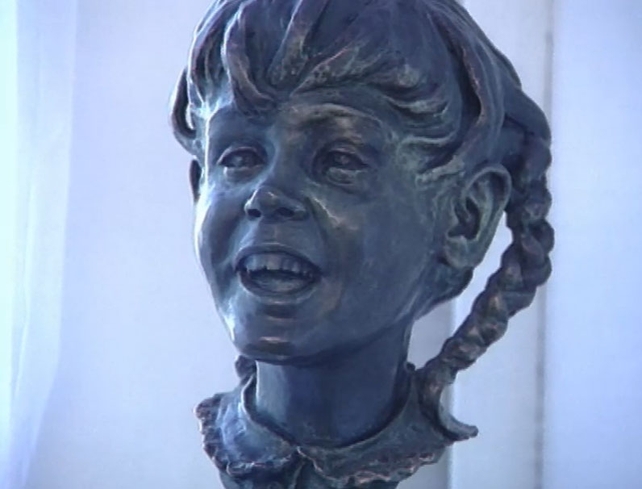 Laughing Girl, Marjorie Fitzgibbon
A granite sculpture by Michael Warren sits in front of the RTÉ Radio Centre. The work symbolises the expansion of broadcasting services and is just one of Michael's many works that can be found internationally. Michael also works in bronze and has work produced in the Dublin Art Foundry on a regular basis. Michael describes the work done at the foundry as "trojan".
The Dublin Art Foundry is now recognised for the quality of casting produced there. Director of the Foundry Simon O'Donnell explains how opening a gallery in the foundry has led to more work. The gallery also gives emerging artists the chance to show their work to the public.
We're pushing very hard to make bronze more popular and not seem too elitist.
An RTÉ News report broadcast on 14 October 1987. The reporter is Teresa Mannion.