The first episode of the new RTÉ current affairs programme 'Prime Time' looks at the currency crisis as sterling withdraws from the ERM.
Replacing 'Today Tonight', the current affairs programme 'Prime Time' is presented by Olivia O'Leary along with reporters Áine Lawlor, Brendan O'Brien and Michael (Mike) Milotte.
Good evening. It's Prime TIme and tonight, the punt in your pocket. What's it worth now? What'll it be worth tomorrow?
The first item in the new programme deals with the currency crisis brought about by the withdrawal of sterling from the European Exchange Rate Mechanism (ERM).
Finance Minister Bertie Ahern is in Studio 2 to comment on the situation and Mike Milotte reports from London on the crisis facing John Major's government and his chancellor Norman Lamont.
Also in the studio is economist George Lee who gives explains the origins of the crisis.
The UK economy is flat as a pancake, it's just comatose.
'Prime Time' brings in-depth analysis of current issues and topical reports every Tuesday and Thursday night on RTÉ One.
This episode of 'Prime Time' was broadcast on 17 September 1992. The presenter is Olivia O'Leary.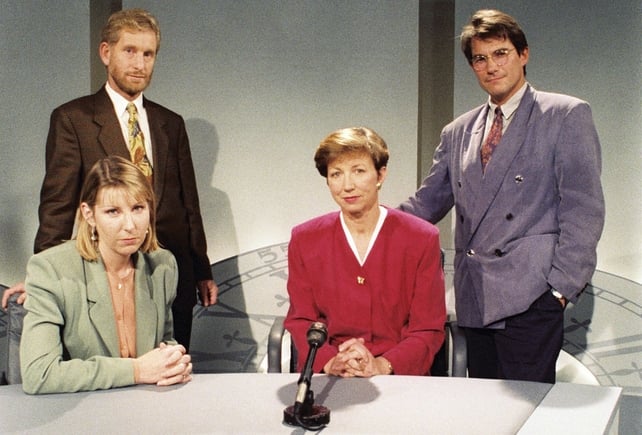 Áine Lawlor, Brendan O'Brien, Olivia O'Leary and Mike Milotte.