Hurling legend Mick Mackey recalls the golden era of Limerick hurling.
Mick Mackey, a native of Castleconnell in County Limerick, played for Ahane Gaelic Athletic Association (GAA) club and was a centre-forward for the Limerick senior team.
After 21 years of senior hurling, his biggest thrill was winning the 1934 All-Ireland Senior Hurling Championship Final against Dublin. This was particularly poignant as it was his first of three All-Ireland medals and also because it was the golden jubilee year of the GAA.
We had a great run, we had good luck and bad luck, but I mean, on the whole we had a fairly good innings.
Mick Mackey played hurling during a period widely considered to be the golden era of Limerick hurling. He puts this down to having the right people at the right time. Also the standard of hurling in Munster and Leinster at that time was very high.
If the standard of hurling was high in his day, Mick believes it was even higher in the 1920s. The golden eras for hurling as he see it were the 1920s -1930s and the 1930s-1940s. He cannot say why the standard started to go down in the 1940s, but he does not think players have the same commitment to training as they did in his day.
It wasn't easy to get out of Munster at that time, you were lucky to survive the first round.
Mick Mackey picks out backs and goalkeepers that he rates, and his dream team would have the forwards Christy Ring, Jim Langton and Johnny Power.
Offered one wish for the future,
I'd like to see Limerick winning an All-Ireland.
This interview was recorded on 26 March 1966. The reporter is Jimmy Magee.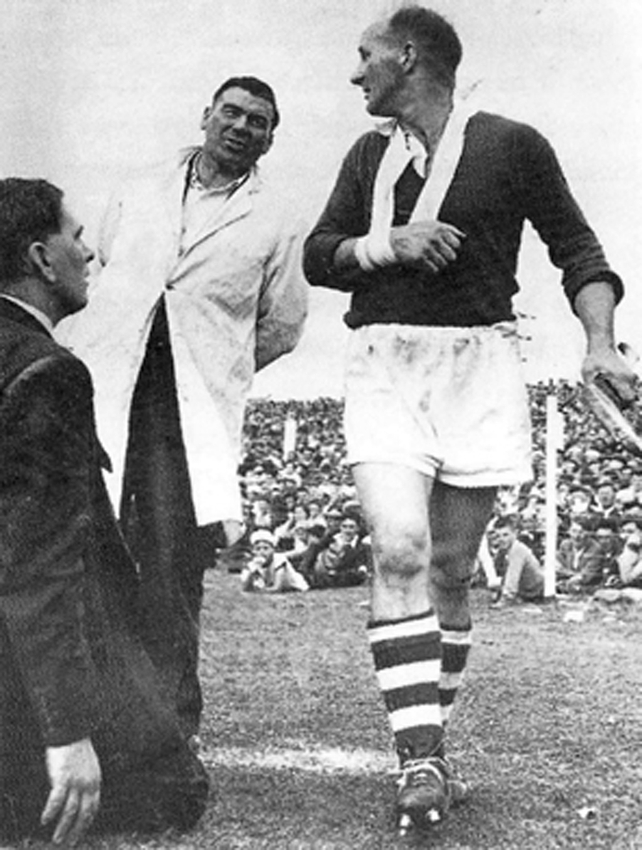 Mick Mackey and Christy Ring in 1957. Image courtesy of Justin Nelson.