The Damned play the Paradiso in Amsterdam. Aonghus McAnally talks to the band and meets their fans.
Backstage The Damned drummer Rat Scabies and singer Dave Vanian talk to 'Borderline' reporter Aonghus McAnally about their 'Anything' tour.
Rat Scabies says the Paradiso is the only place that the band have ever played in Amsterdam. He also describes their fans in Amsterdam as,
Striving for their own individuality.
Adding,
It's just another way to dress to get up mum and dad's nose.
Singer Dave Vanian jokes about the size of the gigs saying that,
Our audience is becoming more selective.
They also talk about the success of the latest album, touring and the possibility of a return to Ireland.
Aonghus also meets some of the fans.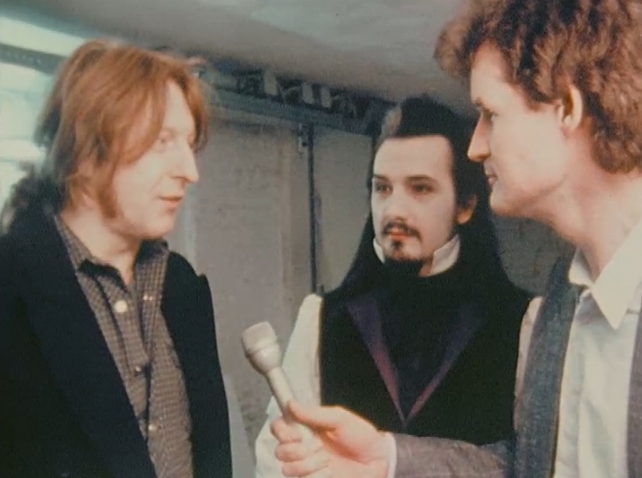 Rat Scabies, Dave Vanian and Aonghus MacAnally (1987)
The report includes a performance of 'Psychomania' from their seventh studio album 'Anything'. The Damned played the Paradiso in Amsterdam on 23 February 1987.
This episode of 'Borderline' was broadcast on 29 March 1987. The reporter is Aonghus MacAnally.
'Borderline' was a Saturday morning teenage programme that covered music, fashion and film. It was first broadcast on 11 October 1986 and was presented by Aonghus McAnally, Ronan Johnston and Majella Nolan.