Rhonda Paisley, Lady Mayoress of Belfast and daughter of Rev Ian Paisley is the guest host on 'Saturday Live'.
One of her guests on the night is the Northern Ireland Protestant religious leader and loyalist politician, and her father, Rev Ian Paisley.
He's been described as a fiery bigot by many, by others he's loved as a saint. To me he's warm, loving, kind and generous.
Ian Paisley recalls various visits to Dublin over the years and the reactions he has received. Father and daughter discuss his political career to date and his spiritual motivation.
I am thankful I don't have any political ambitions. I came into politics at the call of the people and it was amazing that I ever was elected to parliament as a very poor candidate with so many people against me.
Ian Paisley also discusses his faith
I enjoy sweet and blessed peace with God through Jesus Christ his son.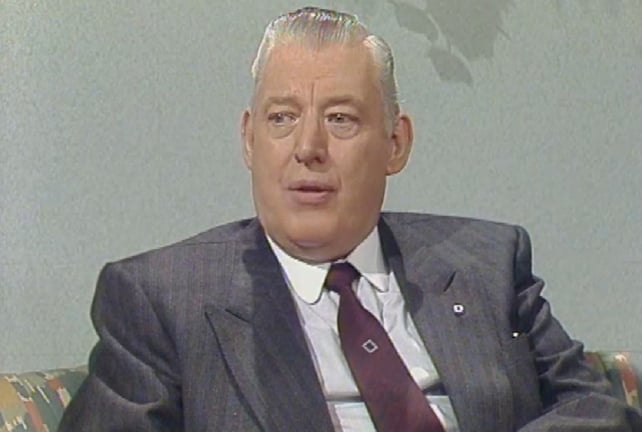 Ian Paisley (1987)
Rev Paisley describes the misconceptions people have of him and his views on Roman Catholics and other people of differing religious faiths. Testimony to this is the part he played in the freeing of kidnapped Roman Catholic priest Hugh Murphy.
They said the only thing that saved you was The Big Man said on Downtown we must let you go.
Rev Paisley claims to have a tolerance and respect for all religions.
My political viewpoint stems from my faith.
He outlines his position on the North and South of Ireland and the Anglo-Irish agreement saying,
We're going to live on this island for a very long time. Let us be good neighbours, that each part develop in its own way.
This episode of 'Saturday Live' was broadcast on 7 March 1987.
'Saturday Live' was a weekly chat show with a different guest host each week. Other guest hosts included Tracy Piggott, Fr Michael Cleary, Brendan Shine, Yvonne Costelloe, Niall Toibin, Bishop Eamon Casey, Pat Ingoldsby, Ulick O'Connor, Lord Henry Mountcharles, Henry Kelly, Shay Healy, Rosemeary Smith, Eamon Dunphy, Tommy Makem, Mick Lally, Mícheál Ó Muircheartaigh, Alan Dukes, Eamon Morrissey, and Joe Lynch amongst others.