What do people think of the Reverend Ian Paisley, Paisleyism and the Free Presbyterian Church?
Reporter John O'Donoghue takes to the streets of Belfast and to see what the city's citizens feel about the Reverend Ian Paisley.
What do you think of the activities of the Rev Ian Paisley?
There are opposing views on the place of a man of religion in the realm of politics.
One critic of Paisley says
I believe that Mr Paisley if he is supposed to be a reverend gentleman should stick to his preaching.
and further comments that he should practice what he preaches.
Another describes him as
Fanatical and outspoken about his beliefs
However, he does have his supporters with one man says,
I think Mr Paisley is a good man... He should get more support cos he's doing what's right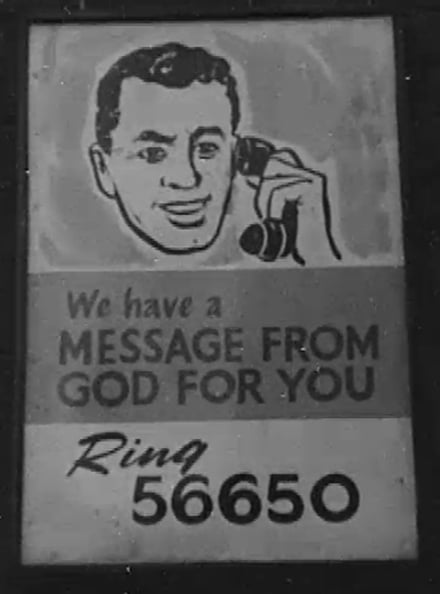 The Ravenhill Free Presbyterian Church offer a telephone service where callers can get a message from God. Using a telephone box John O'Donoghue makes a call and receives a recorded message about salvation which signs off,
Call again tomorrow and God bless you today
This episode of 'Sixty Six' was the final episode in the series and was broadcast on 30 June 1966. The presenter is John O'Donoghue.