Formerly a reporter and producer at RTÉ, Terry Wogan has made the move to the BBC and is embracing the opportunities coming his way.
Cathal O'Shannon spends time with Terry Wogan at home and while he presents his early morning radio show. Terry talks about his success at the BBC, being Irish in Britain, his time working at RTÉ, his relationship with the great British public, family life and his future career prospects.
Cathal O'Shannon asks Terry about his success at the BBC and whether or not it has anything to do with being Irish.
It's the fact that I'm Irish that makes me different from other disc jockeys.
Terry also believes that his time at RTÉ was a good training ground for his career.
If you could function in RTÉ, it is a good training ground for anywhere. I mean you have to learn the hard way there.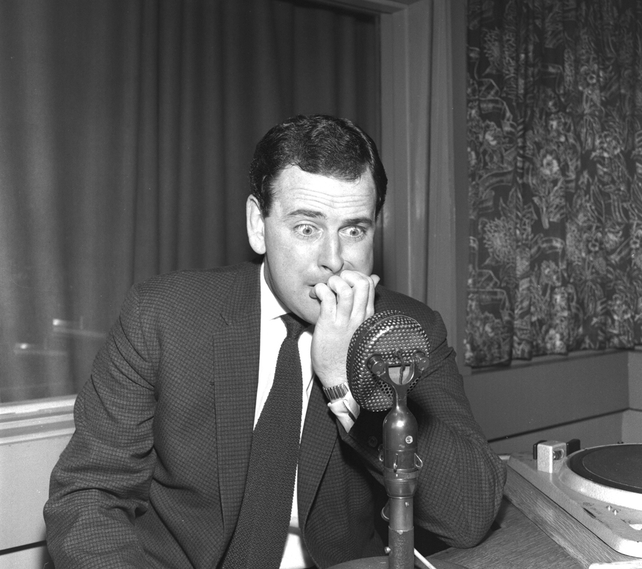 Broadcaster Terry Wogan in RTÉ radio studio (1963). Photo by Roy Bedell.
During his BBC Radio 2 breakfast show programme, Terry describes the workings of the studio and what can go wrong during a live broadcast. We also get an insight into Terry's relationship with his audience as he goes through an exercise regime in his 'Fight On Flab' on live radio.
Between the Morning Story, Quiz Shows, compèring 'Animal, Vegetable, Mineral' for the BBC World Service, and a pilot for a new comedy series, Terry is kept busy with lots of opportunities coming his way.
You must be honest enough to say that you're an egotist or you wouldn't be in this business.
On his future prospects in broadcasting Terry says that he has always been lucky in his career and says
I'm naturally an optimist.
This interview was filmed in the garden at Terry's home thirty miles outside London and in the BBC radio studio during his BBC Radio 2 programme on 8 November 1973. Disc jockey Tony Blackburn, inadvertently makes his first appearance on Irish television, when he pops in to the studio to say good morning.
This episode of 'Tangents' presented by Cathal O'Shannon was broadcast on 17 December 1973.
A miscellany of events, entertainment, opinions and personalities, 'Tangents' was first aired on Monday 25 September, 1972 and ran until 1974. Tangents was presented by Cathal O'Shannon and Doireann Ni Bhriain on Monday, Wednesday, Thursday and Friday and by John O'Donoghue each Tuesday.