Economic decline in Sheriff Street Dublin is resulting in social deprivation for the residents and the community.
This clip from the documentary 'It's A Hard Auld Station' looks at the role that private ownership has played in contributing to the current social and economic conditions. Dublin city centre has a population of around 25,000 people living in interconnecting communities and all facing social problems.
The inner city of Dublin, dominated by symbols of the nation's history and its Christian ideals. The inner city of Dublin whose population of 25,000 live in inter-connecting communities all of which are plagued with social problems that have their roots in the type of society which has developed in Ireland.
Technological advancements in machines and transport have led to the displacement of workers and whole communities dependent upon labour intensive employment. One of the more notable examples being the docklands with the introduction of a "rational" approach to labour with devastating consequences for communities near the docks, including Sheriff Street. The work once done by a crew of forty can now be done by four.
Tessie McMahon is a mother of two living in Sheriff Street provides a picture of what life is like in Sheriff Street, from the deprivation resulting from unemployment and the lack of amenities and services in the area.
It's a flats complex built to give the once trident docks a labour pool. The flats were designed cheaply and to house as many families in the smallest spaces.
With work no longer available in the docks, the idea of having a secure job is a distant memory.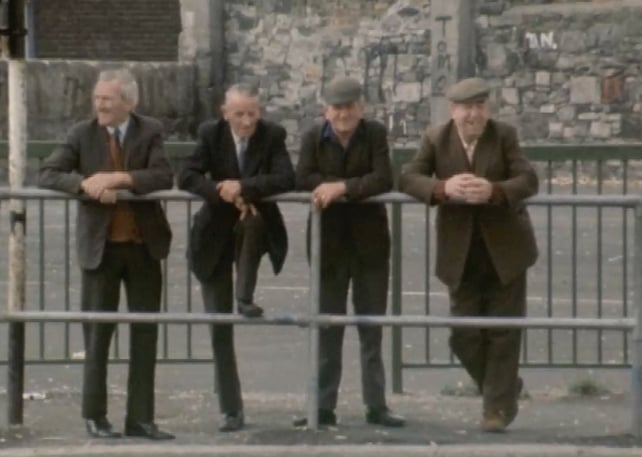 Sheriff Street (1976)
During the production of 'It's A Hard Auld Station' RTÉ gave facilities to Sheriff Street Community Development Association to make a programme about their area and the problems the community face on a daily basis. What resulted was a profile of an area struggling to survive the death of the docklands.
Joe Davis, Lecturer in Urban Economics in Bolton Street, describes the problems facing Sheriff Street residents as a consequence of urbanisation. Declan McCann, IDA regional manager, explains that under IDA policy, Dublin is considered to be well supplied with jobs and it is up to the Sheriff Street residents to seek them.
'It's A Hard Auld Station: Sheriff Street' was broadcast on 29 October 1976.