Every year, the people of the town of Birr celebrate part of their heritage with Vintage Week, a gala display of parades, costumes, bands and cars which involves almost every member of the community and attracts visitors to the Offaly town.
For Jim Fanning, Birr is a world of ascendancy houses and gardens, theatre, music and poetry, set against a background of that vast blue sky which, as all mid-landers will tell you, is so characteristic of the area. He is editor of The Midland Tribune, and has lived all his life in the town. In this episode of 'My Own Place' he remembers Birr as the bustling garrison town of his youth, a town rich in Georgian architecture, bordered by the Shannon and the Slieve Bloom mountains.
This excerpt from the programme features vintage cars, marching bands, floats, unusual bicycles, majorettes, and drama from the Birr Vintage Week parade.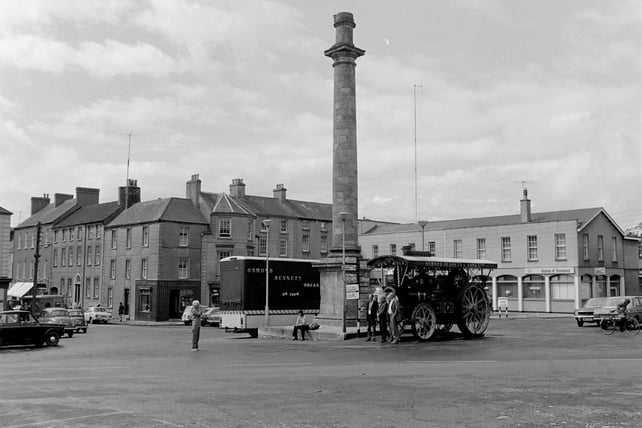 Emmet Square, Birr, County Offaly
Birr Vintage Week is the kind of occasion that is dear to the founder of Jim Fanning. He was founder of Birr Little Theatre which, for many years, gave midland theatregoers the opportunity of seeing many Irish 'firsts' with artists and writers such as Ria Mooney and TC Murray. Many of the scenic areas close to the town are still virtually unknown, and it is Jim Fanning's ambition that these natural amenities should become more accessible to visitors.
This episode of 'My Own Place - The Midland Sky' was broadcast on 29 October 1976.
'My Own Place' is documentary series in which each week some interesting personality takes an affectionate look at the place where they grew up or someplace which has influenced them in a significant way.