In the 1970s street trader Rosie Johnson was crowned the Queen of Moore Street. The tradition died out and is sorely missed by the traders and shoppers on Moore Street.
As part of a project undertaken for the Dublin Fringe Festival, artists Glen Loughran and Emer O'Boyle decided to revive the competition. As a result the 2005 Queen of Moore Street title was given to 84 year old fishmonger May Gorman. A shocked and stunned May was crowned at a ceremony on Moore Street attended by Independent TD for Dublin Tony Gregory.
Born across the road from where she sells her fish, May has worked on Moore Street since she was 16 years of age. Her mother was a fishmonger and May inherited her fish stall from her aunt. Selling fish is in her blood and admits she will never retire as her work keeps her alive.
Fellow street trader Margaret Buckley says May is an icon of Moore Street traders and traders all over the world.
They don't make them like her any more. May loves the street, she lives and breathes Moore Street. We don't. Moore Street is keeping May alive, it's killing us.
As part of her prize May received a portrait of herself painted by Professor Brian Maguire from the National College of Art and Design in Dublin.
A 'Nationwide' report broadcast on 20 February 2006. The reporter is Roisín Ní Eadhra.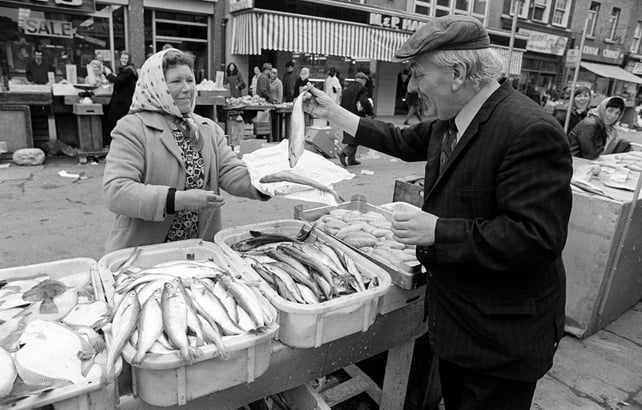 May Gorman with actor Cecil Sheridan on Moore Street in 1973.