RTÉ Radio, or 2RN as it was then called, began broadcasting on 1 January 1926. In a special 'Late Late Show' to mark 50 years of Radio Éireann, host Gay Byrne interviews Roibeárd Ó Faracháin and Eddie Slowey.
Roibeárd Ó Faracháin was Controller of Radio Programmes at RTÉ from 1953 to 1974 and he reminisces about the early years of Radio Éireann. Chief Engineer at RTÉ Eddie Slowey recalls some of the more covert duties he had to perform during the war years, should Ireland be invaded by the Germans.
One of these tasks included setting up a small radio transmitter in the Blackrock home of Éamon de Valera and rehearsing its use with the Taoiseach. Should De Valera need to leave Dublin, the transmitter meant he could broadcast to the people from one of his designated secret locations.
Naturally Dev was a very august and fearsome figure to us, young engineers, and we were asked to go out to his house at lunchtime, that we would explain what was to be done and he would make a mock broadcast.
At the beginning of World War II security loomed large and Eddie Slowey was involved with bugging telephones. He remains tight-lipped about which ones, simply saying
During the war years naturally a number of key telephones were tapped from time to time.
This episode of 'The Late Late Show' was broadcast on 31 January 1976.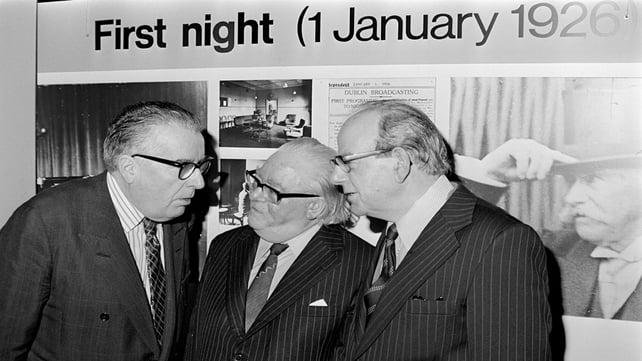 Niall Sheridan, Roibeárd Ó Faracháin and Joe Lacey at the 'Fifty Years of Irish Radio' exhibition in 1976.