Gola Island off the coast of Donegal, celebrated the arrival of electricity with a switching-on mass. Simultaneously, the island was also connected to mains water for the first time.
These two major developments are a far cry from the late 1960s when Gola Island (Oileán Ghabhla) was deserted. The last families left after the local national school was closed down. However, people gradually returned, initially for the summer months. Now some families are returning to live full time on the island.
At first the islanders concentrated on access and infrastructure with the construction of piers and roads. Now with the arrival of electricity and mains water islander Mairín Uí Shearraigh believes they can concentrate on job creation, particularly in the area of cultural tourism. This sentiment is echoed by Minister for Agriculture Mary Coughlan.
Mairéad Nic Suibhne an islander building properties on the Island says
The likes of fridges and electric showers they're not luxuries any more, they are necessities for everyday living. And with the electricity and the water we are delighted now to be able to take that step forward.
From being totally deserted over 30 years ago, Gola now has a ferry service, electricity, water and a future.
An RTÉ News report broadcast on 26 August 2005. The reporter is Eileen Magnier.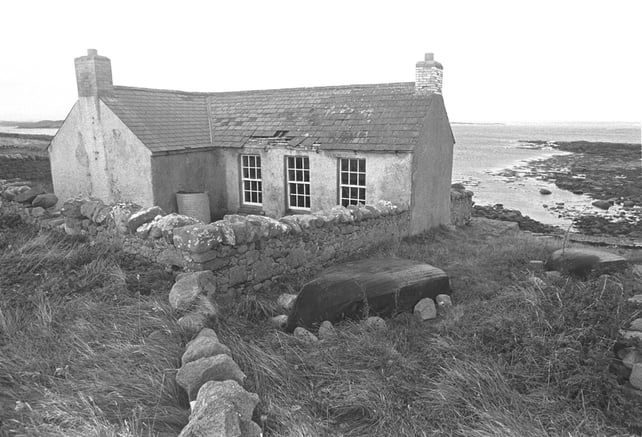 Abandoned Schoolhouse on Gola Island in 1969. RTÉ image reference no. 2022/072