David Trimble resigns as leader of the Ulster Unionist Party (UUP) following disastrous election result.
David Trimble announced he was stepping down as leader of the UUP on 7 May 2005. The decision was taken following a disastrous result for the party in the previous day's Westminster election, which left them with only one seat. He thanked his wife Daphne and his family for their support in his speech.
I hope that for them, today's events will have a silver lining.
Trimble was born in Belfast on 15 October 1944. He first became involved in politics in the 1970s while a professor of law at Queen's University Belfast, and would go on to serve as first first minister of the Northern Ireland Assembly. Together with John Hume, leader of the SDLP, he won the Nobel Peace Prize in 1998.
Whoever takes over from David Trimble faces a tough task to restore the fortunes of the UUP.
An RTÉ News report from 7 May 2005. The reporter is Michael Fisher.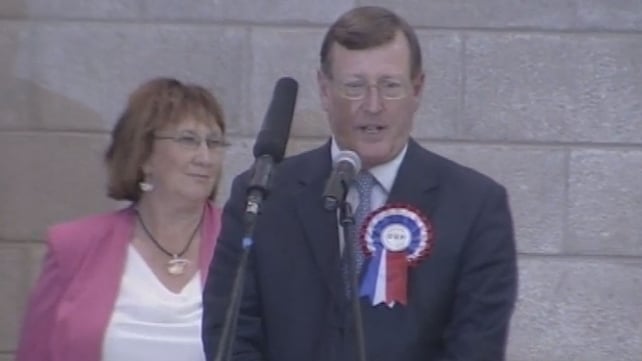 David Trimble (2005)