A look at the drama behind the scenes in the making of the RTÉ soap 'Fair City'.
Six years after it first broadcast on RTÉ Television, a look behind the scenes at Dublin soap 'Fair City'. In 1995 RTÉ broadcast a special documentary 'Fair City From The Inside' which provides an insiders view of the plots and characters.
Gemma Hill took to the streets of the fictional Carrigstown to meet the cast and crew behind the successful soap.
In this clip from the documentary, Gemma chats to three of the younger members of the cast about life on and off the screen. Maeve McGrath, who plays Lorraine Molloy, Victor Burke, who plays Lorraine's brother Wayne, and David Mitchell, who plays Jimmy Doyle. The actors speak about a perception that because they are on television they must have glamorous lifestyle. The reality is quite different as jobbing actors.
This is an actor's job. You go from job to job...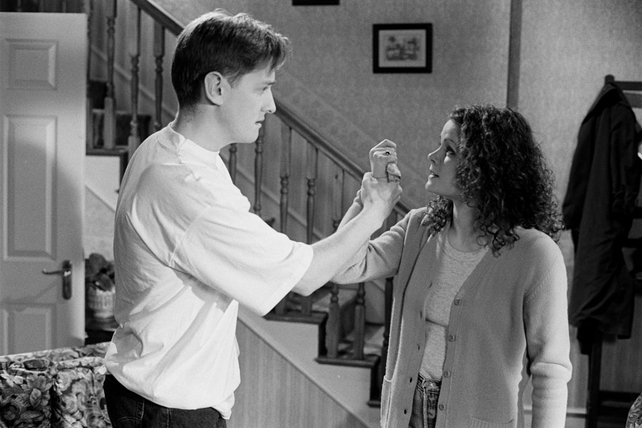 Victor Burke and Maeve McGrath in 'Fair City' (1995)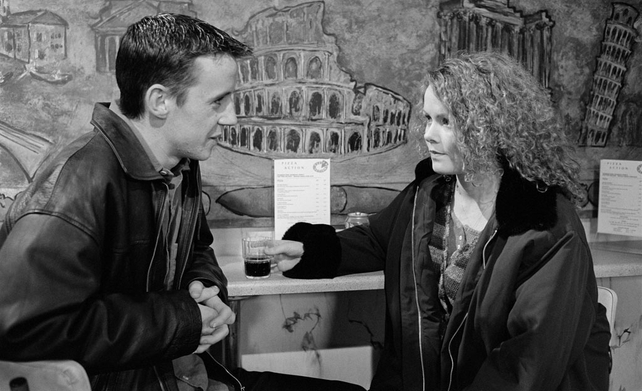 David Mitchell and Maeve McGrath in 'Fair City' (1995)
'Fair City' is the RTÉ weekly drama serial set in the fictional Dublin suburb of Carrigstown. 'Fair City' began broadcasting once a week in September 1989.
Originally the series was shot on location in the Drumcondra area on the northside of Dublin. An outdoor set was then built on the RTÉ Donnybrook campus where production now takes place.
This extract from 'Fair City From The Inside' was first broadcast on 25 April 1995. The presenter is is Gemma Hill.