Navan residents reject plans for a new halting site.
From a series of special reports on the Travelling Community, reporter Joe Little met opponents to a proposed halting site for travellers in Navan, county Meath.
Travellers had been camping illegally outside Navan Community College up until eleven months ago.
The school management went to the High Court, where the Travellers were ordered by the judge to move on. The court also ordered Meath County Council to build a halting site for them within twelve months.
Locals were protesting today at County Council plans to locate the new halting site near Winetown Road, a mile outside Navan. The protesters have staged a round-the-clock picket on the site for the past nine weeks.
Local sheep farmer, and spokesman for the protesters John Boyle tells RTÉ News that the people of Navan do not want another halting site in their area. Their reasons for opposing the site are related to alleged intimidation of locals by members of the Travelling Community, road access and environmental factors.
One protester to the site states

We'd nearly go to prison to stop them

Another comments

There's enough of them in Navan
An RTÉ News report broadcast on 11 April 1995. The reporter is Joe Little.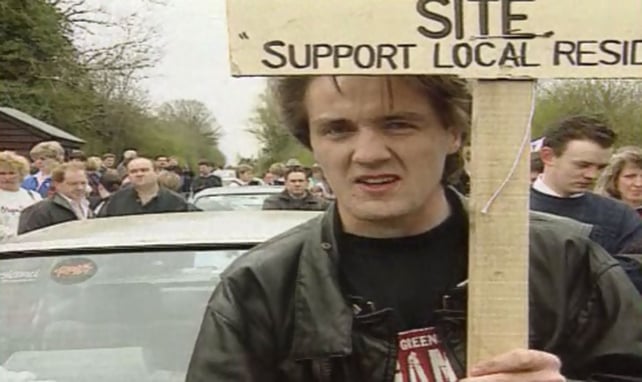 Protestors at proposed location of halting site, Co. Meath (1995)