Budget leaks lead to the resignation of Junior Finance Minister of the Rainbow Coalition.
The Rainbow Government budget was marred by information leaks which resulted in the resignation of Junior Minister for Finance Phil Hogan. The government was a coalition between Fine Gael, Labour and Democratic Left.
RTÉ News reports on leaked budget information that led to Phil Hogan surprising the Dáil by announcing his resignation from government.

When an adviser to Junior Finance Minister, Phil Hogan, had faxed financial details to the media, the opposition was enraged. The Taoiseach made an apology to the Dáil and continued pressure from Fianna Fáil saw Phil Hogan announce his resignation.
An RTÉ News report broadcast on 9 February 1995. The reporter is Una Claffey.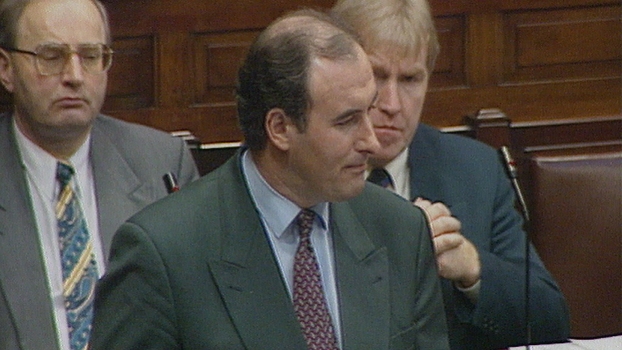 The following day Phil Hogan spoke to reporter Peter Cluskey about his resignation.