Gay Byrne chats to Pauline Bewick ahead of the broadcast of the documentary 'A Painted Diary'
Pauline Bewick chats to Gay Byrne about her unconventional childhood, her mother, and the many different places they lived.
Bewick appeared on the show ahead of the broadcast of David Shaw-Smith's documentary 'A Painted Diary', which was to be broadcast on RTÉ Television the following week. The documentary profiles her career, her unconventional childhood, the beauty of the Kerry countryside, her house in Tuscany and a cross section of her work, and was broadcast on RTÉ 1 on 4 February 1985. Filmed on location in Dublin and Kerry, the film also features her husband Patrick Melia, her daughters Poppy and Holly, the tapestry weaver Regins Barisch Treffkorn, author Claire Boylan, and Editor of Cosmopolitan, Deirdre McSharry.
Bewick came to live in Ireland at the age of two, living in many parts of the country and in many different types of accommodation including a workman's hut, a caravan, a boat, a hotel gate lodge, a castle, a farm, and a railway carriage. She finally settled in Kenmare, Co. Kerry.
This episode of The Late Late Show was broadcast on 2 February 1985. The presenter is Gay Byrne.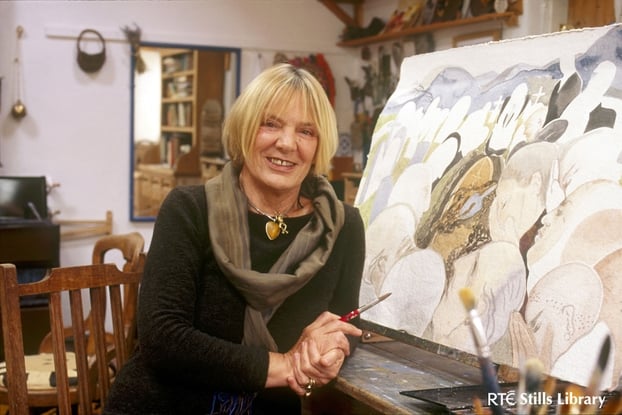 Pauline Bewick in her home in County Kerry ( 2001)