Architect Michael Scott describes the challenges and choices made in designing the new Abbey Theatre.
The new Abbey Theatre opened in the same location as the original building, which had been destroyed by fire in 1951. The expensive and lengthy process of replacing it involved fitting one theatre on top of another on a small site while complying with stringent health and safety regulations. The new auditorium for the main Abbey stage sat 628 people, which was about 100 more than the old one, while the smaller Peacock stage was also larger than it had been.
The building was designed by architecture firm Michael Scott and Partners with French theatre designer Pierre Sonrel as consultant architect.
Michael Scott talks about issues and design choices for the building from the brick walls to the lack of single dressing rooms. There is a reason for everything, from the need for a silent, dark auditorium to the Abbey Theatre 'no stars' policy.
A 'Late Extra' interview from 18 July 1966. The reporter is Patrick Gallagher.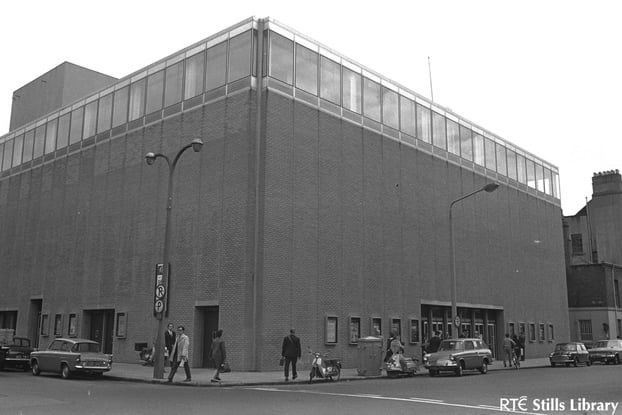 The Abbey Theatre in 1968. The photographer was Des Gaffney.