On 3 September, 1963 the foundation stone for the new Abbey Theatre was laid by President Éamon de Valera.
Opened in 1904 the Abbey Theatre was founded as the Irish National Theatre Company. Originally located on Marlborough Street, the theatre was badly damaged by fire in 1952. A new site was acquired on Abbey Street and Michael Scott and Partners were contracted to build the new theatre which finally opened in 1966.
From the radio programme 'Yesterdays' Scott, himself a former Abbey actor, talks to John Bowman about the opening of the new theatre. Scott describes the anticipation on opening night as the audience waited for the curtains to go up. He also discusses the controversial lengthy and costly build.
The accompanying image above shows President of Ireland Éamon De Valera at the laying of the foundation stone at the Abbey Theatre, Dublin. © RTÉ Archives 0770/099
The RTÉ Guide listing for the series 'Yesterdays' was,
"People, issues and events of other days recalled by contemporaries, historians and voices from the archives. Edited and introduced by John Bowman. Producer Diarmuid Peavoy."
(RTÉ Guide January 17, 1969 vol. 6 No 4. p17)
To coincide with the start of the build, the RTV Guide looked at the past and future of the Abbey Theatre in a special feature by Ernest Blythe in September 1963.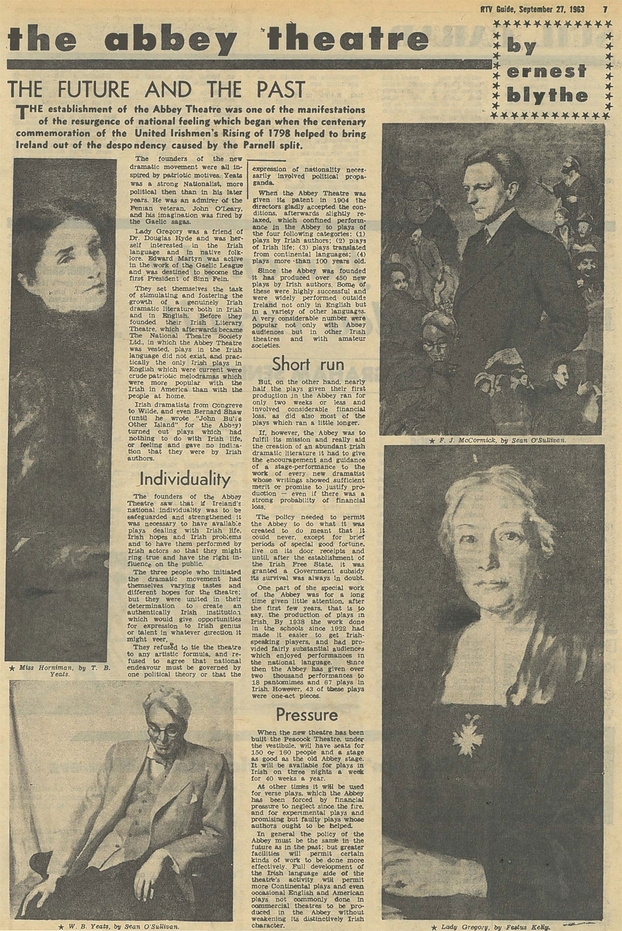 (RTV Guide September 27,1963, p7)