In 1984 Maynooth College or St. Patrick's College, Maynooth, got a new library. The John Paul II Library was officially opened on 7 October, 1984 by the President of Ireland, Dr. Hillery.
At the opening the building was blessed by Cardinal William Baum, former Archbishop of Washington and Prefect of the Sacred Congregation for Christian Education. Monseigneur Michael Olden says that the hope is that students from different strands would meet and study together in the library, which also geographically links the religious and lay sides to the university.
One floor of the building is officially named the American Floor in honour of the donations of funding received from the US.
Pope John Paul II had blessed the foundation stone of the library during his visit to Maynooth on 1 October, 1979.
The new library has 5.5 miles of bookshelves and 250,000 volumes, and cost £5 million to build.
This RTÉ News report was broadcast on 7 October 1984.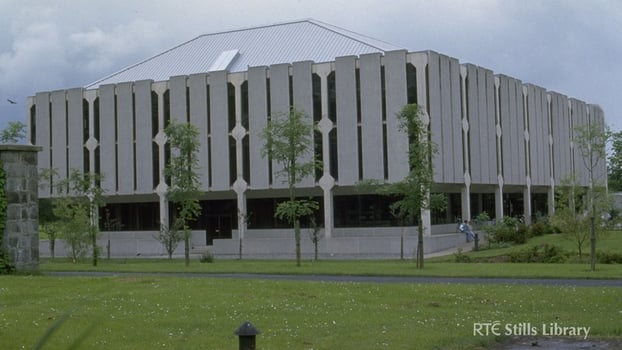 John Paul II Library, Maynooth University, Co. Kildare