The new summer uniforms for Aer Lingus staff have been designed by leading couturier Ib Jorgensen.
The new design came after hostesses made demands for a lighter, cooler uniform for the summer months.
At the time the 1,000 ground staff and air hostesses had three uniforms each costing £30 per dress. The new summer uniforms were available in porcelain blue or soft jade and could be worn either with or without a belt. The dress included a yoked collar and wide puffed sleeves to the elbow.
The new uniform is made of viscose and polyester and was crease-proof making it practical and durable. While this is the sixth uniform designed for air hostesses since 1945, it is the first uniform specifically designed for summer wear. There is no new uniform for the 20 male air stewards who continued to wear their winter uniform of a pale green suit. The old uniform of skirt, blouse and top will remain in the wardrobe until winter.
The new summer uniform was manufactured by Robert Janan Limited in Bray, and Dolman Fashions in Dublin.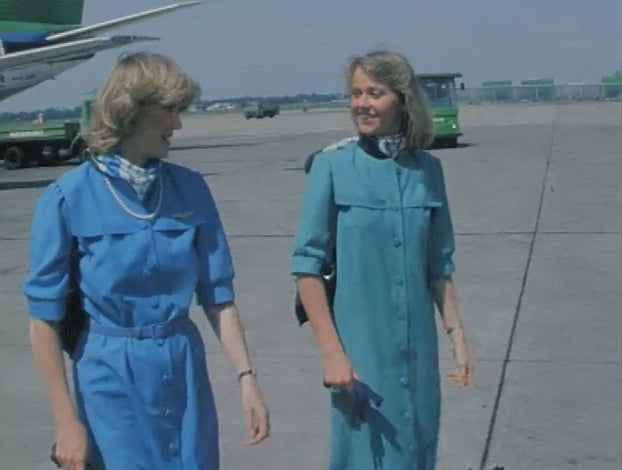 Danish born designer Ib Jorgensen trained at the Grafton Academy in Dublin and began his career at the house of Nicholas O'Dwyer, where he became a skilled cutter and tailor. It was at the house of Nicholas O'Dwyer that he became accustomed to working with the Aer Lingus uniform.
The report includes interviews with Aer Lingus Services Manager Dick Creagh, designer Ib Jorgensen, and Chief Ground Hostess Martina O'Rourke.
An RTÉ News report broadcast on 10 July 1984. The reporter is Alasdair Jackson.