Three car bombs explode in Dublin killing 26 people and injuring many more.
Eyewitnesses tell RTÉ News what they saw from the different locations across the city.
Paddy Sharkey, owner of the Maples Hotel on Talbot Street, describes the chaos that ensued when the bomb exploded. He also comments that there were more pedestrians than usual on the streets at the time of the blast due to the bus strike.
Fr. Pearce Duggan from Donnycarney was driving through the city near Talbot Street when the explosion occurred. He describes administering holy oils to as many of the victims of the bombing as possible. He also describes how many civilians came together to clear the debris from the street and help the injured.
Pat Nolan, hairdresser, describes the scenes on Parnell Street, and seeing people lying dead on the street.
Two further unidentified witnesses describe what happened when the explosions hit Leinster Street.
An RTÉ News report broadcast on 17 May 1974. The reporter is Barry Linane.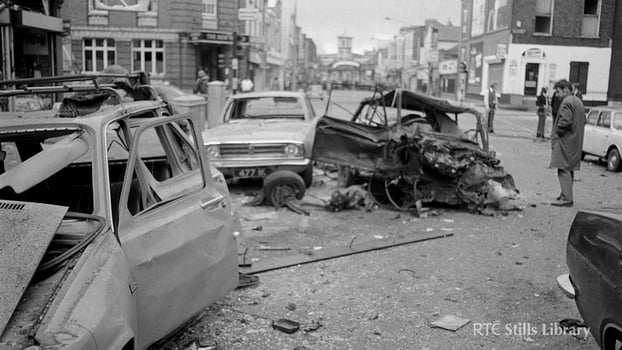 Aftermath of bomb in Talbot Street (1974)