Today is Ash Wednesday, which is also National No Smoking Day in Ireland. As it is also Seachtain na Gaeilge here is a look at smokers and their personalities as Gaeilge. Beidh RTÉ Archives ag féachaint siar ar chláracha Gaeilge ó chartlann RTÉ i rith na coicíse roimh Lá Fhéile Pádraig.
According to Seosamh Mac Giolla Eoin in this radio piece, you can judge a person by how he smokes, whether he is generous with his cigarettes or hoards them like a miser. A woman handles a cigarette like her husband: "coinníonn sí é faoina hordóg".
This radio piece was broadcast on 15 December 1968 on 'Coinne Domhnaigh', a fortnightly magazine programme presented by Breandán Ó hEithir on Sundays.
The image above shows actor Joe Lynch in a 1977 publicity shot for his variety series 'Living with Lynch'. The photographer was Ronan Lee. © RTÉ Archives 2186/047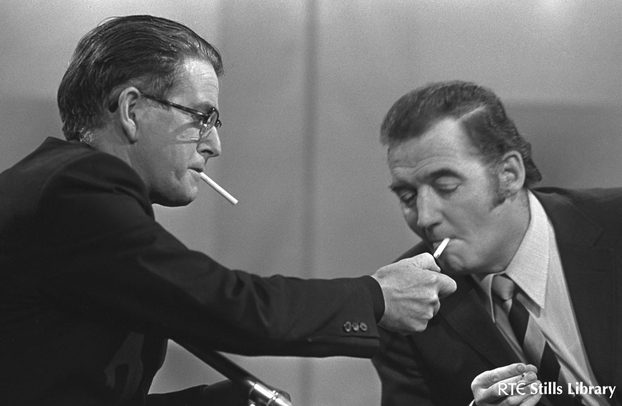 Fr Sean O'Riordan (left) lights a cigarette for broadcaster Bunny Carr on the set of RTÉ's religious affairs programme 'Encounter' in 1972. The photographer was Des Gaffney. © RTÉ Archives 007/087