Ireland's EU Commissioner Phil Hogan has told the President of the European Commission that he was assured on two separate occasions by the organisers that the Oireachtas Golf Society dinner which he attended in Co Galway last week was Covid-compliant, RTÉ News understands.
A spokesperson said that Mr Hogan spoke by phone with Ms von der Leyen this afternoon. It is understood both have also been in touch by text message.
Last night Mr Hogan delivered a two-page report to President von der Leyen on the event and on his movements around Kildare and other counties in the run up to the golf event.
Today a spokesperson for the President said she had sought further details and clarifications from Mr Hogan.
RTÉ News understands that the clarifications Ms von der Leyen has sought relate to the nature of the various lockdown rules as applied in different counties.
"This is a matter which requires careful assessment on our side. This is a matter where details count," spokesperson Dana Spinant told a news briefing earlier today.
"Therefore, the president has required Commissioner Hogan to provide a full report. The president has received such a report from Commissioner Hogan last night.
"She is now looking at it ... the president has requested further clarifications because details are important and she wishes to have them."
Ms Spinant added that it was difficult for the Commission to establish if Mr Hogan's reported movements between Kildare, Kilkenny and Galway were in line with Irish regulations, "which differ county to county".
She said the Commission was now carefully analysing what details Mr Hogan had provided on the matter "before completing our assessment".
Pressed by reporters on the issue of Mr Hogan being cautioned by gardaí for using his mobile phone while driving, Ms Spinant said traffic incidents are for local police authorities to address.
"It is not a matter for us to comment on such traffic-related incidents involving commissioners or anyone else, and we of course trust that the local authorities deal with the matter according to their [national] procedures," she said.
Earlier, Taoiseach Micheál Martin said he was very angry about the controversy surrounding Mr Hogan, which "simply should not have happened".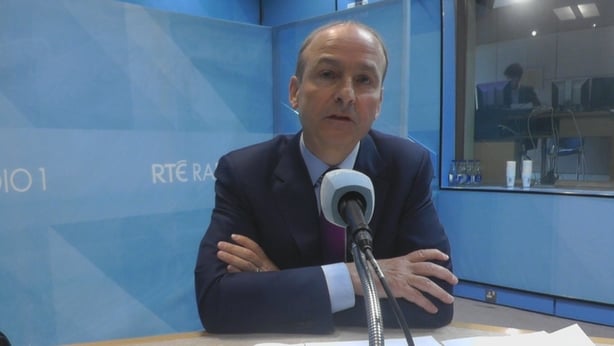 He said the EU Commissioner should make a comprehensive statement and make himself available for interviews in order to give an account of the full sequence of events.
Mr Martin said the public need absolute assurance the restrictions in Kildare were not breached by Mr Hogan.
Speaking on RTÉ's Today with Claire Byrne, he said that people have made terrible sacrifices throughout the Covid-19 crisis and he particularly thinks of those who could not attend funerals or had to have very small numbers attend funerals.
Mr Martin said he has confidence in Mr Hogan as an EU Commissioner, saying he is competent and able.
However, he said there is a fundamental issue in Ireland and across Europe, where the capacity and success of suppressing Covid-19 depends on people adhering to public health advice and people are furious with recent events.
The commissioner faced further scrutiny last night after it emerged that he was stopped by gardaí for using his phone while driving.
Mr Hogan has issued at least six public statements about his attendance at the Oireachtas Golf Society event in Clifden last Wednesday.
"I think he's been a good Commissioner, I can't say I don't have confidence in him as a European Commissioner" Taoiseach @MichealMartinTD says of @PhilHoganEU, but adds people are rightly "furious" at what has happened. | https://t.co/H0S75l6aAs pic.twitter.com/cEe9NAD7kH

— RTÉ News (@rtenews) August 24, 2020
The latest statement confirmed that he was stopped by gardaí for using a mobile phone last Monday while driving in Co Kildare, where Covid-19 restrictions are in place. 
His spokesperson said the incident happened while Mr Hogan was en route from Kilkenny to Kildare to collect what were described as "personal belongings and essential documents" at his apartment In Kildare,  before driving on to Galway. 
The documents related to EU-US trade negotiations which, the spokesperson said, "continued while the commissioner was in Galway". 
---
Read More:
Hogan stopped by gardaí for using phone
Clifden golf event at the nexus of Covid-19 and Brexit 
Phil Hogan controversy: The last thing the EU needs
Taoiseach, Tánaiste ask Phil Hogan to 'consider his position' 
Calleary, Buttimer resign over attending Clifden event
---
Mr Martin said the dinner itself should not have happened but a breach of restrictions in Kildare, in addition to the dinner, would be particularly serious.
Mr Martin said that the apology Mr Hogan gave was extremely important and he "really had to communicate" to Commissioner Hogan the importance of a full and sincere apology when he spoke to him on Saturday. He said that Mr Hogan understood the anger on the ground.
Mr Martin said that he and Tanáiste Leo Varadkar asked Mr Hogan to consider his position in light of the fact that he was stopped by gardaí in Kildare on 17 August, which was not in accordance with the statement Commissioner Hogan had made.
He explained that the Minister for Justice received the information about this from the Secretary General, who receives information from the Garda Commissioner who, under Section 41 of the 2005 Garda Act, can make Government aware of issues he thinks are of interest, at his discretion.
Mr Martin said he has not spoken to the Garda Commissioner about this.
He said the Government is shining a light on the anger of the Irish people to what they "correctly regard" to be an unacceptable breach of the guidelines.
Mr Martin said that the Government will survive and he has had good meetings with Mr Varadkar and Green Party leader Eamon Ryan on the key matters that have emerged in recent days.
He said that he welcomes the fury of the people over the Clifden golf function, saying "they are right to be furious" and it shows the public have a low threshold to tolerate breaches of the public health guidelines.
The Taoiseach said he has kept his focus despite the controversy and "is working to do the right thing even if it is unpopular".
"Some people are wondering whether this Government survive", @TodayRadioRTE puts the question to the Taoiseach.

"It will survive" Taoiseach @MichealMartinTD replies.

Live blog: https://t.co/R0CsJx9QU6 pic.twitter.com/3Sr11rEOFV

— RTÉ News (@rtenews) August 24, 2020
Earlier, Minister for Housing Darragh O'Brien said Mr Hogan should resign as EU Trade Commissioner.
Speaking on RTÉ's Morning Ireland, Mr O'Brien said that Mr Hogan should take responsibility for his actions, as well as providing absolute clarity about his movements in Ireland.
Mr O'Brien also criticised the "drip feed" of information about Mr Hogan's movements in Ireland.
"That's unhelpful to say the least. The commissioner needs to realise how rightly people are so angry about this event and his participation in it," he added.
Mr O'Brien disputed claims that the commissioner's removal would not be in Ireland's interest because of Mr Hogan's role in the Brexit negotiations.
'Ireland's approach to Brexit shouldn't be pinned on one individual' and Michel Barnier has shown us the EU has Ireland's back when it comes to negotiations - @DarraghOBrienTD

— Morning Ireland (@morningireland) August 24, 2020
"I don't really think that argument as a justification for the commissioner to stay on stand up. I understand the point that's being made, but frankly our hopes and our strategy in relation to Brexit in the next few months are not just pinned on one individual."
Minister O'Brien said Mr Hogan has been a good commissioner and well-respected in Europe "but to pin all our hopes on one individual is simplistic".
He said Michel Barnier has led Brexit negotiations on behalf on the EU and it has also been a whole of government approach with Simon Coveney also heavily involved.
Mr Hogan said his brief visit in and out of Kildare was for exceptional reasons, something that is allowed  under the Covid-19 guidelines. 
A Government spokesperson would not give details of what the commissioner has told the Taoiseach or Tánaiste about his movements, but said they are awaiting a full account of events. 
Mr Hogan has offered his "profound apology" for attending the dinner for 81 people in Clifden.
A spokesperson for the European Commissioner Phil Hogan has said that the information requested by Commission President von der Leyen has been provided.

— Mícheál Lehane (@MichealLehane) August 24, 2020
Meanwhile Sinn Fein's David Cullinane has claimed that Mr Hogan had lost the confidence of the Irish people, while his party colleague Chris MacManus, an MEP for Midlands Northwest, said the recent revelations were having a very negative impact on how EU citizens viewed the European Commission. 
Grealish admits golf function should never have gone ahead
Independent TD Noel Grealish has denied that a pre-dinner drinks reception took place at another hotel in Clifden before the Oireachtas Golf Society function last week.
And the Galway West TD, who is captain of the golf society, said he is not resigning over his role in organising the event although he has admitted it should never have gone ahead.
Deputy Grealish said that the decision to go ahead with the controversial dinner was taken by the president of the golf society Donie Cassidy based on advice received from the Irish Hotel Federation.
And the former Progressive Democrats leader, who was first elected to the Dáil in 2002, said he was not aware of a pre-dinner drinks reception taking place prior to the dinner.
"No, there was no pre-drinks reception...no, there wasn't," he said.
"It [dinner] was wrong, it shouldn't have gone ahead, it should have been cancelled. I raised it on Wednesday morning with the president of the golf society Donie Cassidy.
"It was a two-day event. There was the captain's prize on Tuesday and there was no function that night. On Wednesday it was the president's prize and that night it was the president's function honouring the late Mark Killilea, who founded the society 50 years ago.
"I did raise it on Wednesday morning with Donie Cassidy, should the function go ahead in its current format? And he contacted the Irish Hotels Federation who issued a statement and said they contacted the Department of Tourism and they said the existing guidelines are still in place and that it could go ahead.
"But it shouldn't have gone ahead. There were two function rooms, which were the guidelines, which were sent to the hotel as well.
"But it should have been cancelled, it was wrong," said Mr Grealish.
Additional reporting Mary Regan