Meat plants affected by a Covid-19 outbreak should not open on Monday, according to Health Minister Stephen Donnelly.
Speaking to RTÉ's Nine O'Clock News, Mr Donnelly said it was his "personal view" that it would be "inappropriate" for these factories to operate "while other people are being asked to restrict their movements".
Restrictions have been put in place in Kildare, Laois and Offaly for two weeks following a spike in the number of coronavirus cases in those counties, many of them linked to meat production plants.
More than 300 people were tested for Covid-19 at three testing centres in the midlands today.
Mr Donnelly said: "This not about attributing blame or saying it is anybody's fault.
"But we are asking a lot from people in those three counties and my personal view is that it would not be appropriate for meat factories to be open during the two weeks while people are being asked to restrict their movements."
He said meat plants had been monitored carefully after "around 1,100 cases" were traced to them during the early months of the pandemic.
"We were the first country in Europe to put specific Covid-19 protocols into meat plants," the Minister said. "The result was that there were very few cases through to July.
"What we are seeing now has happened very quickly, within a matter of days.
"The testing and tracing teams were able to get in quickly and while we had high numbers of new infections today, the silver lining is that the vast majority are linked to known clusters.
"However, some cases are not associated with them and we have to watch this."
Mr Donnelly said he wanted to see supports for meat workers "inside and outside" the factories. "How are people getting to work, for example? Are they sharing lifts? Do we need more prevention measures inside buildings?"
He said we "cannot have a situation where staff are afraid to say they are not feeling well because they might lose their job or not get paid".
The Minister said he and public health officials would be sitting down with representatives from the meat processing industry.
"We want to know what more can be done in what are clearly high-risk workplaces."
Also today, meat giant Danish Crown closed a large slaughterhouse in Denmark after nearly 150 employees tested positive for coronavirus.
---
Read more:
New restrictions annonced for counties Kildare, Laois and Offaly
At a glance: What are the restrictions imposed in 3 counties?
Analysis: Covid-19: No time for panic
Latest coronavirus stories
---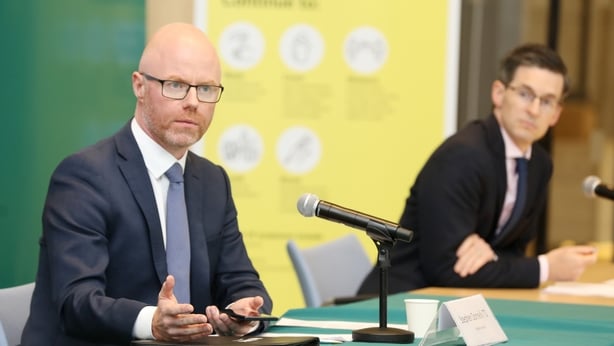 Meanwhile the Acting Chief Medical Officer has warned that restrictions put in place in Kildare, Laois and Offaly could apply to any other region in the future.
Dr Ronan Glynn told RTÉ's Six One news: "It won't take much for other regions to have a problem as well so we need everyone to be cautious and follow public health guidelines."
He said one of the key measures is looking at the 14 day incidence. He said Kildare is at 130 per 100,000 tonight, Dublin is at 10 or 11 in comparison.
Dr Glynn said he was not contemplating regional lockdowns for anywhere else at this time and he hopes the three counties will be out of this lockdown in two weeks' time.
He also said that the National Public Health Emergency Team (NPHET) had been expecting an increase in cases today.
The acting CMO said we are likely to see a significant rise in Covid-19 cases in coming days with more testing of hundreds of employees and their families.
He said one optimistic note is that the clusters are close contacts of people working in these facilities so they are confident the virus has not leaked out into the communities in the three counties.
If it gets out there, it will be so much more difficult to control, he told RTÉ.
"We have been monitoring the situation very closely in these counties for the past 10 days," Dr Glynn said, adding that they became aware of the situation in counties Kildare, Laois and Offaly on Thursday night.
"When there is cases like this, the public health team come in [to factories] and all of the necessary measures that need to be taken will be taken."
Midlands correspondent @ciaranmullooly reports from Tullamore as gardaí set up Covid-19 checkpoints to ensure compliance with new restrictions in counties Offaly, Laois and Kildare | More: https://t.co/BoJKkuzn7u pic.twitter.com/zv5hbDeIpJ

— RTÉ News (@rtenews) August 8, 2020
He said the reason for more cases is that "we are more aware now that people can be asymptomatic so more tests are being carried out".
Another message he wanted to highlight is that there are 50 cases tonight of Covid-19 in counties outside Laois, Kildare and Offaly so he asked all people to be cautious.
Gardaí have set up a series of Covid-19 checkpoints in the midlands in a bid to ensure the public are complying with the new Government restrictions.
#COVID19 Checkpoint carried out by members of Nenagh District on the Cloughjordan to Shinrone, Co. Offaly, R491 this afternoon.#Holdfirm pic.twitter.com/qXTrpDNDrB

— An Garda Síochána (@GardaTraffic) August 8, 2020
Checkpoints are located randomly in areas near the borders of Offaly, Kildare and Laois, and motorists who reside in the three counties are being reminded of the new restrictions imposed since midnight.
The restrictions in these three counties are in place for two weeks. There will be limits on movement, meaning people should only travel out of their county for certain reasons such as childcare or looking after vulnerable relatives.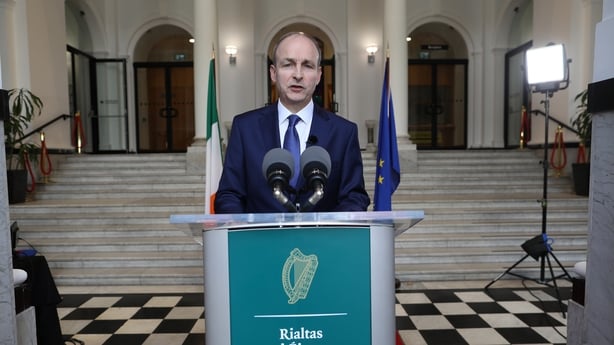 People can also travel outside those counties for work, but only in cases where they cannot work from home.
Since last night, cafés, restaurants and bars have been closed, and there will be no sporting events or matches.
All outdoor gatherings are to be limited to a maximum of 15 people, while maintaining social distancing.
In making the announcement yesterday, Taoiseach Micheál Martin said the virus was still a "deep and urgent threat" and people living elsewhere should also play their part.
Preparations to reopen schools in the three counties will continue. Visits to nursing homes and prisons in the three counties should be suspended, except on compassionate grounds.
Covid checkpoints being carried out across the Tullamore District today #holdfirm pic.twitter.com/Ob4XHP8ZWY

— An Garda Síochána (@GardaTraffic) August 8, 2020
Places of worship may remain open for private prayer. Mass and other religious services should be delivered online or through remote means. A maximum of 25 people can attend funerals.
The World Health Organization says data to date suggests 80% of Covid-19 infections are mild or asymptomatic, 15% are severe infection, requiring oxygen and 5% are critical, requiring ventilation.
Generally, you need to be 15 minutes or more in the vicinity of an infected person and within two metres of them, to be considered at-risk, or a close contact.
Additional reporting Ciaran Mullooly Laura Hogan