Meat giant Danish Crown has closed a large slaughterhouse in Denmark after nearly 150 employees tested positive for coronavirus.
The abattoir in Ringsted, about 50km from the capital Copenhagen, employs nearly 900 people and slaughters tens of thousands of pigs every week.
Danish Crown said 120 employees tested positive for the virus in a first round of tests of 600 employees present. It then retested all the negative cases and detected 22 additional infections.
"For this reason, we are closing the abattoir for at least a week to try to break the chain of transmission among employees on site," Danish Crown said in a statement.
All the employees must quarantine, said the company, one of Denmark's biggest exporters and the biggest pork product producer in Europe.
The virus cluster at Ringsted is the main active one in Denmark, where the number of cases has increased sharply in recent days.
The resurgence has forced the government to abandon plans to ease restrictions at concert halls and night clubs, and instead prepare new curbs.
Several dozen infections have been registered in Aarhus, the country's second biggest city.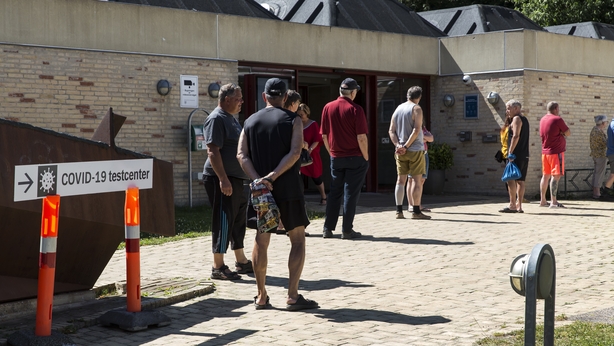 Prime Minister Mette Frederiksen said yesterday that Denmark intends to make masks compulsory on public transport, even though such a measure had not even been recommended recently.
Youths brawl with Belgian police over virus curbs

Belgian police arrested several people today after a brawl broke out on a beach between officers and youths they had told to leave for refusing to respect virus safety measures.
The clashes took place at the resort of Blankenberge. A group of youths became violent after police told them to leave the beach, the daily Het Laatste Niewus reported.
Dozens of people were involved in the brawl and local police had to call in reinforcements. Footage on social media showed young people throwing parasols at the officers.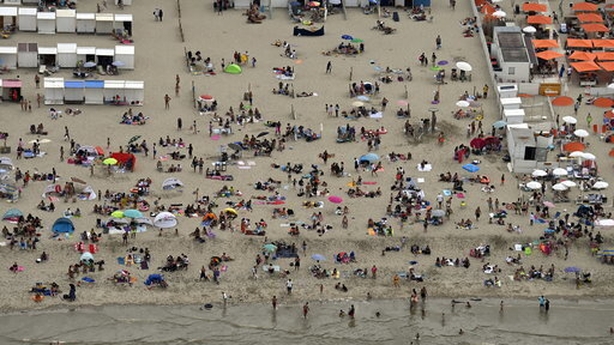 The town's mayor Daphne Dumery denounced the violence, saying: "This can't go on. We are doing everything to maintain safety in our resort, and now this."
Belgium is one of the countries worst hit by the virus in terms of its death rate and was one of the first countries to require people to wear masks outdoors in crowded areas.
To date it has recorded more than 72,000 infections and 9,866 deaths.
Paris makes masks mandatory as virus toll crosses 722,000

Paris has made face masks compulsory outdoors in crowded areas and tourist hotspots, as infections in and around the French capital rose and the global death toll crept past 722,000.
The decision to make face masks mandatory outdoors in Paris and its surrounding areas from Monday morning was widely expected after a formal request earlier in the week by mayor Anne Hidalgo.
The masks will be obligatory for all those aged 11 and over "in certain very crowded zones", said a police statement.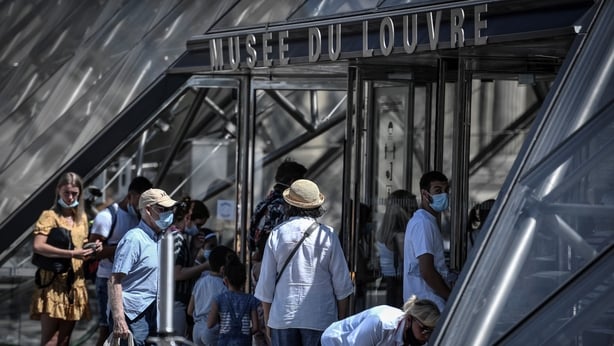 They include the banks of the Seine River and more than a 100 streets in the French capital, including tourist destinations like Montmartre, where the Sacre Coeur basilica is located.
Around 400 people were testing positive for Covid-19 in the region every day, with the 20-30 age group particularly affected.
Back to school in Gaza
Palestinian children returned to school in Gaza after a five-month suspension due to a coronavirus lockdown -- but with fewer classes and special safety measures in place.
The United Nations agency for Palestinians, UNRWA, said over 285,000 pupils had returned to its 277 schools.
It had provided material to sanitise the schools and trained staff on the measures to take and would review the situation in a week.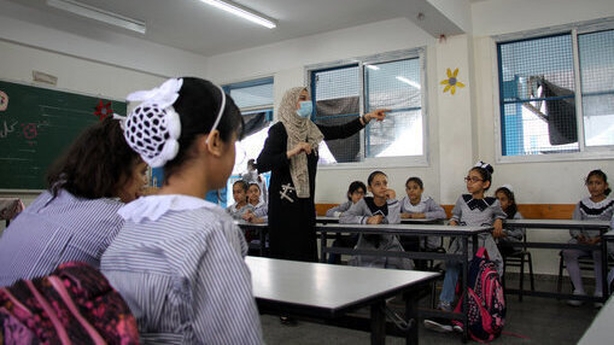 Gaza, under Israeli blockade since 2007, has reported 78 cases of the Covid-19 illness, with one death.
South Africa coronavirus deaths top 10,000: government

More than 10,000 people have died from coronavirus in South Africa since the pandemic arrived in the country in March, the health ministry said today.
The continent's most industrialised economy has registered 553,188 infections, more than half of the continental caseload, and the fifth biggest number of Covid-19 cases in the world.
Minister Zweli Mkhize said in his daily update statement that 301 new virus-related deaths had been recorded.
"This means we have breached the 10,000 mark, with 10,210 cumulative deaths now recorded," he said.
More than half of the deaths registered today were in the southeastern KwaZulu-Natal (KZN) province.
The South African National Assembly has announced that the KZN-based veteran opposition politician and lawmaker 91-year-old Mangosuthu Buthelezi, had tested positive for coronavirus, but was asymptomatic.
Mr Buthelezi led the once-feared Zulu nationalist Inkatha Freedom Party (IFP) that presided over South Africa's deadliest violence ahead of the country's first all-race elections in 1994, until he stepped down last year.
"The peak is here, the peak is where we are," health minister Mkhize said during an inspection of hospitals in the KZN province today.