There has been one further death from Covid-19 and 174 additional cases reported to the Department of Health. This brings the total number of deaths here to 1,772 with 26,644 cases.
This is the first time that case numbers have risen above 100 since Friday, May 22, when 115 people were confirmed to have tested positive for coronavirus.
Today's figure is also the highest number of new cases in one day since 426 cases were announced on 14 May.
Five cases have been identified as community transmission with 112 cases confirmed to be associated with outbreaks or are close contacts of a confirmed case.
110 cases are located in Kildare, 27 in Dublin, seven in Cork, seven in Offaly, six in Meath and 17 are spread across 13 other counties (Carlow, Cavan, Clare, Donegal, Galway, Kilkenny, Laois, Limerick, Mayo, Roscommon, Tipperary, Wexford and Wicklow).
Of the 174 new cases, 69% are under 45 years of age. 128 are men and 48 are women.
Acting Chief Medical Officer Dr Ronan Glynn said; "While today's numbers of confirmed cases are high, they are not unexpected.
"As I said last night, we are expecting significant numbers of cases to be reported over the coming days.
"Throughout this week, we have been testing all workers in facilities where outbreaks of Covid-19 have been identified as well as close contacts of those people who have received Covid positive results.
"Tonight's figures are a reflection of these measures with 118 of these cases linked to the counties of Kildare, Laois and Offaly.
"Our priority now and our reason for recommending the proactive measures announced last night, is to avoid these cases and clusters leading to widespread community transmission of the disease."
Acting Chief Medical Officer Dr Ronan Glynn has said we are likely to see significant numbers of Covid-19 cases in the coming days, after 174 additional cases of coronavirus are confirmed this evening | Read more: https://t.co/tSwfjc1umg pic.twitter.com/qJh7NtvVy1

— RTÉ News (@rtenews) August 8, 2020
Dr Glynn added: "50 of tonight's cases are located outside of these three counties and around the rest of the country.
"I once again ask everyone - regardless of where you live in the country - to take every precaution possible to help us control the spread of this disease and protect our most vulnerable.
"This means continuing to wash our hands, keeping 2 metres apart from one another, avoiding crowds, wearing face coverings where appropriate, covering our coughs and sneezes and downloading the Covid Tracker app."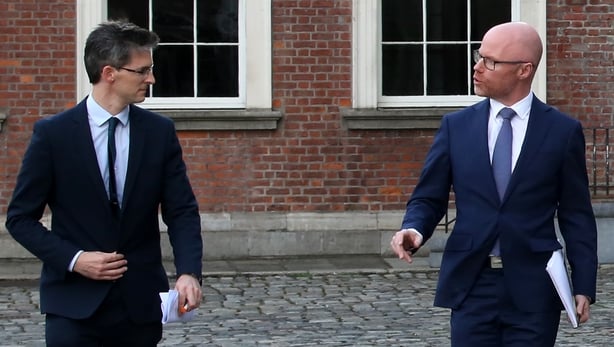 It is understood there have now been more than 150 cases at the Kildare Chilling factory. O'Brien Fine Foods has had 86 confirmed cases.
There have been 53 cases linked to the pet food factory in Naas in Co Kildare and 11 cases linked to the Carroll's meats factory in Tullamore, Co Offaly.
In a statement, O'Brien Fine Foods said that its normal operations have been suspended since 4 August and would not resume for a 14 day incubation period from that date.
86 workers at the factory, which supplies Brady's Irish Ham, have tested positive for Covid-19. All staff would continue to be paid in full, it said.
The company also said its warehousing facility and minimal related operations would function at significantly reduced capacity, in consultation with the HSE, to manage perishable goods.
O'Brien Fine Foods added that arrangements would be put in place for the safe transportation of all employees to and from work to mitigate the risk of transmission.
Sinn Féin spokesperson on Health, David Cullinane, said: "For months now, concerns about meat factories have been raised time and time again yet these warnings appear to have gone unheeded by the Government.

"I am concerned about the lack of rolling testing and a failure to introduce more robust preventative action when it was needed. We need to see rolling testing take place as a priority."
Earlier today, Minister for Health Stephen Donnelly said the Government is acting quickly in order to save lives in relation to the reintroduction Covid-19 restrictions in counties Offaly, Kildare and Laois.
Gardaí in the midlands have set up a series of Covid-19 checkpoints in a bid to ensure the public are complying with the new Government restrictions.
More than 300 people have been tested for Covid-19 at three testing centres in the midlands.
Two pop-up testing facilities have been opened in Newbridge, Co Kildare and in Portlaoise, Co Laois, while the HSE has also reactivated the testing centre on the outskirts of Tullamore, Co Offaly where queues formed this morning.
With around 300 people being tested in Kildare, Laois and Offaly and continuing testing linked to the factories, there are also likely to be significant numbers over the coming days. The hope is still that it has not spread significantly outside the known outbreaks. @rtenews

— Órla O'Donnell (@Orlaodo) August 8, 2020
Professor Philip Nolan, chair of the National Public Health Emergency Team (NPHET) Irish Epidemiological Modelling Advisory Group, today explained the approach to containing the current outbreaks of coronavirus.
"Outbreaks can grow explosively in some settings due to 'super-spreader' events, and have many cases by the time one case is detected," he said on Twitter.
"A large outbreak means it's likely there are latent or asymptomatic cases in the community. It is vital - at that point - to limit congregation and contact between households to limit onward transmission.
"Test-trace-isolate is a tool used by public health to manage and control outbreaks, not a magic wand to prevent outbreaks in the first place. It's an important tool, but just one tool, in the complex process of case and outbreak management," the professor added.
Businesses across the midlands, still counting the cost of the pandemic, have spent the day assessing the financial damage of once again shutting down so much of the regional economy | Read more: https://t.co/xmEwridb2w pic.twitter.com/coKfoZFRHW

— RTÉ News (@rtenews) August 8, 2020
"The ways to interrupt viral transmission work in combination: limit contacts, avoid crowded indoor settings, hand and respiratory hygiene, physical distance, face coverings, self-isolation at the first sign of symptoms, test-trace-isolate.
"Where a community is at high risk, these measures may have to be reinforced with specific regional restrictions on movement and congregation.
"This is a difficult decision, and must be made quickly. Speed saves lives."
Prof Nolan also said that while 'population screening' is "an attractive idea, there are huge technical difficulties, because testing for screening is fundamentally different from testing for diagnosis. We are working on this, but it's not a quick or simple solution."
Five people in intensive care with confirmed Covid-19 cases
There are currently ten people in hospital with confirmed cases of Covid-19, five of whom are in intensive care.
There are a further 112 suspected cases in hospitals around the country, with ten of these people in intensive care.
There are two confirmed cases each in Kilkenny, the Mater and Tallaght hospitals. Beaumont, Cavan, Drogheda and Limerick each have one confirmed case.
University Hospital Limerick has 35 suspected cases, the highest number in the country.
There are currently 35 critical care beds available across the country's hospitals and 346 general beds.