The Taoiseach has announced that limited restrictions will be implemented in counties Kildare, Laois and Offaly for two weeks from midnight tonight in response to the increased spread of Covid-19.
"There are a number of localised clusters which are a serious concern," Micheál Martin said.
"We can't afford to wait and see."
The Taoiseach said the virus was still a "deep and urgent threat" and people living elsewhere should also play their part.
Acting Chief Medical Officer Dr Ronan Glynn said tonight there had been 289 cases in Kildare, Laois and Offaly over the past 14 days.
Residents of the three counties will not be allowed to travel outside of their counties except for in limited circumstances, including to travel to and from work, under plans agreed by the Government.
Residents will be permitted to travel outside of these counties for the following reasons:
To travel to and from work, where it is not possible to work from home.
To attend medical appointments and collect medicines and other health products.
For vital family reasons such as caring for children, elderly or vulnerable people, but excluding social visits.
For farming purposes including food production and care for animals. 
Restaurants, bars, cinemas and gyms will be closed under the localised restrictions.
Taoiseach Micheál Martin says it is everyone's responsibility to help limit the spread of Covid-19. He says everything else is secondary to public health, and this requires difficult decisions. | Follow live updates: https://t.co/0c14UF1L2W pic.twitter.com/TA2gIyfLI5

— RTÉ News (@rtenews) August 7, 2020
School reopening preparations may continue in counties Laois, Offaly and Kildare, under the restrictions agreed by Cabinet today.
Creches and childcare facilities will remain open, while playgrounds and other outdoor amenities will also open, with appropriate social distancing.
All retail outlets may remain open, but with strict adherence to public health guidelines, including the wearing of face coverings.
Under the restrictions all indoor gatherings including any type of household, private family or social indoor gatherings of people will be restricted to a maximum of six people from no more than three households in total, while maintaining social distancing.
"We are conscious that as we move forward, our responses need to be more nuanced and sustainable," said Mr Martin.
Taoiseach Micheál Martin outlines new measures that will come into effect for the counties Kildare, Laois and Offaly. | Follow live updates: https://t.co/0c14UF1L2W pic.twitter.com/0pttmb3ypl

— RTÉ News (@rtenews) August 7, 2020
All outdoor gatherings are to be limited to a maximum of 15 people, while maintaining social distancing. 
Cafes, restaurants and pubs serving food should close from tonight, except for the purpose of serving takeaways.
Outdoor dining up to a maximum of 15 people with appropriate social distancing will be permitted.
Theatres, museums, galleries, bingo halls, casinos, betting shops and other indoor recreational and cultural outlets should be closed.
Taoiseach Micheál Martin urges people in all parts of the country to reflect on what they can also do to slow down the spread of Covid-19. | Follow live updates: https://t.co/0c14UF1L2W pic.twitter.com/x3WOHlx5Zd

— RTÉ News (@rtenews) August 7, 2020
No sporting events or matches should take place, however non-contact sports and training may continue outdoors subject to a maximum of 15 people.
Contact sports should cease except for training for professional and elite athletes. Horse racing behind closed doors may continue.
Visits to nursing homes and prisons in these three counties should be suspended, except on compassionate grounds.
Places of worship may remain open for private prayer. Mass and other religious services should be delivered online or through remote means.
A maximum of 25 people can attend funerals.
---
Read more:
What are the restrictions imposed in 3 counties?
Covid-19: 98 additional cases and 4 more deaths
Govt recommends face coverings in secondary schools
Live: New restrictions for counties Kildare, Laois and Offaly
---
The Taoiseach said the process of opening up the country is not simple and will not be a case of just moving forward step by step.
Mr Martin warned that, like every other country, there will be setbacks.
He said over the past week, there has been a series of localised clusters which he said were a "serious concern".
Mr Martin said he understood the desire to get back to normal life, but he said the virus is still a "deep and urgent threat" which he described as "merciless and unrelenting".
The Taoiseach said that the Government has moved to ramp up testing in effected sectors within the region.
He said any business premises that are required to be closed on public health grounds will be shut until public health officials are satisfied that they no longer pose a threat.
The new restrictions come as the Department of Health was notified of four additional deaths and 98 more cases of Covid-19 this evening.
There has now been a total of 1,772 Covid-19 related deaths in Ireland and 26,470 confirmed cases.
Minister for Health Stephen Donnelly has said that the incident rate of the coronavirus per 100 people is now at 11, up from 3.
Speaking at a press briefing at the Department of Health, he said it is likely that garda checkpoints will take place in counties Kildare, Laois and Offaly for the two weeks of the restrictions.
Dr Ronan Glynn says he can't give a guarantee that these latest restrictions will be lifted after two weeks. The intention is that we can keep this under control in two weeks, but he can't give guarantees, he says. | Follow live updates: https://t.co/0c14UF1L2W pic.twitter.com/2eQ24YCXa0

— RTÉ News (@rtenews) August 7, 2020
The Acting Chief Medical Officer said that he cannot give a guarantee that restrictions will not last longer than two weeks.
Dr Ronan Glynn said that the restrictions for the three counties are being implemented to ensure that the virus does not spread.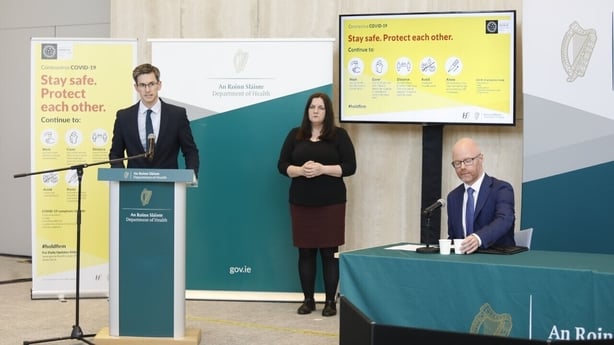 "We are still in a relatively good position in this country, relative to many other countries around the world. And the reason that we are taking these measures tonight, is to protect that position," he said.
"If we don't move now, we find ourselves in a position - two, three weeks down the line - in a much worse situation."
Dr Glynn added: "NPHET believes that this package of measures today represents a proactive and proportionate response to the evolving situation.
"I fully understand that today's decision will be very disappointing and will cause significant disruption for many of the people in these counties who have already made very significant personal sacrifices in supporting the public health measures throughout this time.
"But we believe that today's measures will help us to control the disease and we are hopeful that they will only need to be in place for the next two weeks, as currently recommended."
We need your consent to load this rte-player contentWe use rte-player to manage extra content that can set cookies on your device and collect data about your activity. Please review their details and accept them to load the content.Manage Preferences
The Fine Gael TD for Laois-Offaly Charlie Flanagan has criticised restrictions being imposed on both counties as well as Kildare.
He told RTÉ News that "people are shocked" and that it is "a blunt instrument" that will leave "businesses devastated and families in shock".
He said concerns around meat plants were flagged weeks ago and should have been addressed by the HSE and the public health team.
"Now local communities are feeling unfairly victimised, Mr Flanagan said.
"It's very bad news for the midlands an area reeling from Bord na Móna job losses."