The Department of Health has been notified of four additional deaths and 98 more cases of Covid-19.
The four deaths notified tonight are from May, June, July and August.
Of the additional cases notified today, 57 are men and 38 are women, while 68% are under the age of 45.
The department said 67 of the cases are confirmed to be associated with outbreaks or are close contacts of a confirmed case, while four cases have been identified as community transmission.
There has now been a total of 1,772 Covid-19 related deaths and 26,470 confirmed cases in Ireland.
Meanwhile, it has been announced that residents of counties Kildare, Offaly and Laois will not be permitted to travel outside of their counties except for in limited circumstances including to travel to and from work, under plans agreed by the Government.
Acting Chief Medical Officer Dr Ronan Glynn said there had been 289 cases in Kildare, Laois and Offaly over the past 14 days.
Restaurants, bars, cinemas and gyms will be closed for the localised restrictions, which are due to come in to effect from midnight tonight and remain in place for two weeks.
But crèches will remain open and preparations for the reopening of schools can continue.
Residents will be permitted to travel outside of these counties for the following reasons:
To travel to and from work, where it is not possible to work from home.
To attend medical appointments and collect medicines and other health products.
For vital family reasons such as caring for children, elderly or vulnerable people - but excluding social visits.
For farming purposes including food production and care for animals. 
Earlier, Dr Glynn advised people living in those counties to pay particular attention to any new symptoms after a huge increase in Covid-19 cases linked to outbreaks.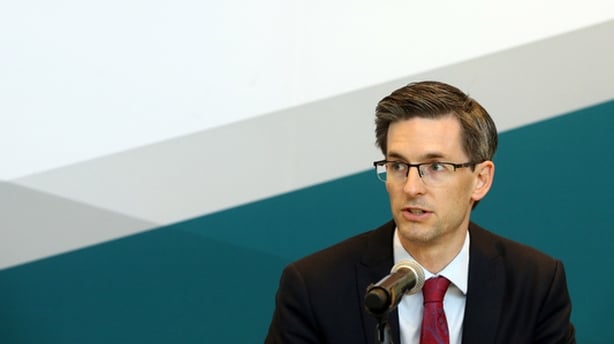 Dr Glynn said GPs in those counties had been written to and contact tracing was under way.
But he said people living in Kildare, Laois and Offaly should pay particular attention to any new symptoms that they may have, double down on basic public health behaviours and avoid crowded spaces.
---
Latest coronavirus stories
Covid-19 National Summary
Local restrictions announced
The restrictions at a glance
Face coverings recommended in secondary schools
---
Dr Glynn said NPHET was strongly recommending that those over 70 or medically vulnerable should limit the number of people they meet, and the time they spend with others, and should avoid public transport if possible.
NPHET has serious concerns about outbreaks related to four meat factories in Kildare and in Tullamore in Co Offaly.
SIPTU spokesperson Greg Ennis said he is not surprised by the Covid-19 outbreaks in meat and food processing factories and said "blanket testing" across all of these workplaces needs to happen now.
Speaking on RTÉ's Morning Ireland, he said the meat industry is the "perfect storm for the transmission of Covid" because of the vectors that exist there, "such as close proximity working, bottlenecks in canteens and toilets and noise pollution which forces workers to shout and obviously create the droplets".
Mr Ennis also said 95% of workers do not have sick pay schemes and that puts people in a situation that if they are carrying an illness, they are forced into work as they have nothing else to rely on.
He also said a lot of workers are forced into sharing accommodation with others so the spread of the virus happens both inside and outside the workplace.
Chair of the NPHET Epidemiological Modelling Advisory Group Professor Philip Nolan said yesterday that community transmission was currently low, but health officials would be very fortunate if it continued that way.
He said that because the outbreaks were so big there was a real risk they could spread more widely.
There were 12 patients in hospital last night with confirmed cases of Covid-19. Five of those patients are in intensive care.
The confirmed cases are in the Mater hospital in Dublin, which has three, as well as in Drogheda and Tallaght which have two cases each. Beaumont, Cavan, Galway, Kilkenny and Limerick hospitals each have one confirmed case.
In addition, there were 121 patients in hospital last night with suspected cases of the disease.
University Hospital Limerick has the highest number of suspected cases, with 30 patients. Eleven of the suspected cases across the country are in intensive care units.
There are 264 vacant general hospital beds and 34 available critical care beds in the country's 29 acute hospitals.
Health Service Executive figures also show confirmed cases of Covid-19 have, on average, more than four close contacts.
Figures from an online resource for GPs, GPbuddy.ie, show that the number of cases diagnosed by doctors fell on Wednesday after a spike on Tuesday, following the bank holiday weekend.
However, it still remains high. GPs reported diagnosing 298 cases on Tuesday and 175 on Wednesday.
GPbuddy.ie is asking as many GPs as possible to respond to the daily survey on its website.
For Covid-19, the World Health Organization says that data to date suggests that 80% of infections are mild or asymptomatic; 15% are severe infection, requiring oxygen and 5% are critical, requiring ventilation.