EU and UK negotiators have until Sunday to reach agreement on a future trade deal following an inconclusive three-hour meeting between British Prime Boris Johnson and European Commission President Ursula von der Leyen.
A senior UK source described the discussion as "frank".
"Very large gaps remain between the two sides and it is still unclear whether these can be bridged," the source said.
"The prime minister and Ursula von der Leyen agreed to further discussions over the next few days between their negotiating teams. 
"The prime minister does not want to leave any route to a possible deal untested. The Prime Minister and Ursula von der Leyen agreed that by Sunday a firm decision should be taken about the future of the talks."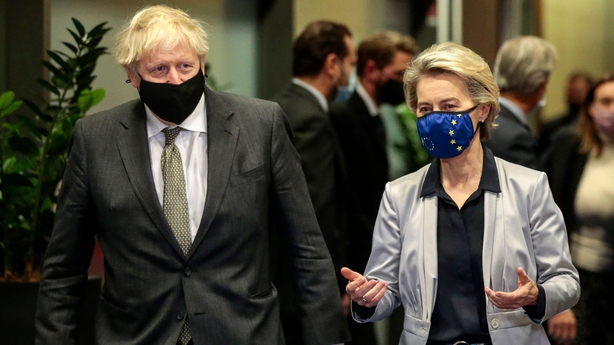 In a statement tonight, Ms von der Leyen said: "We had a lively and interesting discussion on the state of play on outstanding issues. We understand each other's positions. They remain far apart.
"The teams should immediately reconvene to try to resolve these issues. We will come to a decision by the end of the weekend."
The Brussels meeting came ahead of a European Council summit tomorrow where Ms von der Leyen is expected to debrief the leaders of the 27 member countries on the negotiations.
Earlier today during Prime Minister's Questions in Westminster, Mr Johnson set out the main problems he has with the EU's position, although he said "a good deal is still there to be done".
Negotiations have faltered on the issues of fishing rights, the "level playing field" measures aimed at preventing the UK undercutting the EU on standards and state subsidies, and the way that any deal would be governed.
Mr Johnson said: "Our friends in the EU are currently insisting that if they pass a new law in the future with which we in this country do not comply or don't follow suit, then they want the automatic right to punish us and to retaliate.
"Secondly, they are saying that the UK should be the only country in the world not to have sovereign control over its fishing waters.
"I don't believe that those are terms that any prime minister of this country should accept."
He again insisted the UK would "prosper mightily" with or without a deal.
That claim has been disputed by economic experts including the Office for Budget Responsibility and the governor of the Bank of England.
Boris Johnson is having dinner with the European Commission president Ursula von der Leyen in Brussels tonight, in an attempt to reach a breakthrough on a post-Brexit trade deal. @tconnellyRTE gives an update from Brussels. | Read more: https://t.co/d7oLbzTy8l pic.twitter.com/vahJ10IosK

— RTÉ News (@rtenews) December 9, 2020
Failure to reach agreement would see tariffs imposed on UK exports to the EU, the country's biggest trading partner, and could also increase bureaucracy.
---
Read more:
'Trusted trader scheme' agreed between EU and UK
Boris goes back to where it all began
Latest Brexit stories
---
German chancellor Angela Merkel stressed the importance of the "level playing field" to protect the EU's single market, the rules governing trade in the EU.
She told the parliament in Berlin: "We must have a level playing field not just for today, but we must have one for tomorrow or the day after, and to do this we must have agreements on how one can react if the other changes their legal situation.
"Otherwise there will be unfair competitive conditions that we cannot ask of our companies."
Tánaiste and Minister for Enterprise Leo Varadkar told the Fine Gael parliamentary party that there will be no breakthrough in the talks this evening and that a future EU-UK trade agreement still hangs in the balance. 
He said that the deal agreed with former prime minister Theresa May had proven to be bulletproof. 
Tánaiste Leo Varadkar has said he believes both sides have more to salvage from a Brexit agreement than they have to lose | Read more: https://t.co/g1tUw4Mzpz pic.twitter.com/FiwaUQZp6N

— RTÉ News (@rtenews) December 9, 2020
Mr Varadkar told his Fine Gael colleagues that there will be no hard border on the island of Ireland and access to the European single market and common travel areas have been protected.
He said that it was through EU solidarity and unity that negotiations had got this far.
The Taoiseach told a meeting of the Fianna Fáil Parliamentary Party last night that significant differences remain on the issue of the level playing field.
Micheál Martin said there is an ongoing risk of a no-deal Brexit, which would be very serious across the regions. He said, however, that there is a route to a resolution on fisheries.
Speaking at an Oireachtas committee today, European Commissioner Mairead McGuinness said of the chances of a deal: "I'm not very confident from the speech made by the British Prime Minister in the House of Commons today.
"I think there is a failure to understand, which perhaps is a failure of Brexit at the very outset, if you choose to leave, there are consequences, particularly where that country wants to stay part of the single market."
Ms McGuinness said the European Commission is preparing specific and very narrowly focused contingency plans to prepare for the possibility of a no trade deal Brexit.
"Today we are preparing contingency plans, very specific and very narrowly focused to make sure that in the event of a 'no deal' that those sectors that are vulnerable, transport, aviation etc, that specific plans are put in place to maintain connectivity," Ms McGuinness said.
Additional reporting Reuters