The European Union and the UK have agreed a trusted trader scheme that would mean exemptions from tariffs for up to 98% of goods flowing between Great Britain and Northern Ireland from 1 January, RTÉ News has learned.
The other 2% would potentially avail of rebates from any tariffs, it is understood.
Tariffs would mostly only apply if no free trade agreement is concluded between the EU and UK.
Both sides have also agreed that agri-food products coming from Britain to Northern Ireland will be exempt from requiring export health certificates for a period of at least three months.
These have proved the biggest concern for UK supermarket chains in Northern Ireland, who rely on large and mixed consignments of food coming from depots in Britain.
Export health certificates can cost up to £200 per product and need to be signed off by a designated veterinary inspector.
It is understood the issue of how supermarkets will comply with EU food safety rules could be dealt with through a UK commitment, possibly a declaration, that it does not intend to change its food safety rules from 1 January.
Those rules at that point will still be the same as EU food safety rules.
The trusted trade scheme would be subject to a review, or sunset clause, three-and-a-half years after the Protocol comes into effect, according to an internal EU briefing.
If the EU is not satisfied with the way the scheme is operating, it can trigger an emergency brake through the EU UK Joint Committee, which is tasked with implementing the Northern Ireland Protocol.
Alternatively, the system could be tweaked rather than halted completely, depending on how it is operating, it is understood.
---
---
The three-and-a-half-year review clause is deliberately timed to precede the first vote of the Northern Ireland Assembly on whether or not the trade provisions of the Protocol should be continued.
This is under the consent clause of the Protocol.
It is understood that chilled meats, sausages, mince and unfrozen prepared meals, which are prohibited and restricted from entering the EU from third countries, will be permitted for a period of time, pending a review by both sides.
And that once a derogation period has elapsed, Northern Ireland supermarkets will have to source such products locally or from the Republic.
It is also understood that the various grace periods and derogations will give supermarkets time to improve their own food traceability and stock management systems, which in turn could play a role in reassuring member states as to the safety of food supplies potentially entering the single market from Britain, which will be a third country.
The EU and UK have also agreed in principle that exit summary declarations for goods going from Northern Ireland to Britain will not be required and the information will instead be generated from data, such as that held on manifests, that already exists when lorries bring consignments on ferries to Britain.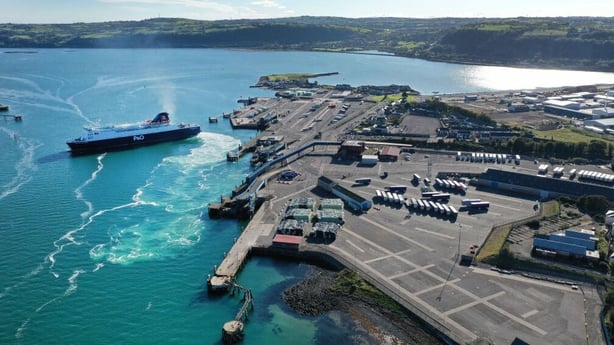 EU officials who are entitled to monitor the implementation of checks and controls at Northern Irish ports will be based in temporary office space, such as co-working facilities, it is understood.
These officials, mainly from the customs sphere, will be recruited from member states and rotated in and out of Northern Ireland.
However, EU member states will also be entitled to monitor UK customs databases within their own capitals as part of their surveillance of goods entering Northern Ireland, and thereby entering the rest of the single market.
The College of EU Commissioners is being briefed on the agreement, and both sides are expected to publish the details tomorrow.
No EU embassy in Northern Ireland
Michael Gove told MPs there will be no EU embassy in Northern Ireland but EU officials will be permitted at border checks in once the transition period ends.
He said this week's agreement would allow "unfettered access" for businesses to access the market in Great Britain.
He said the UK had vetoed the EU's bid to have a base in Northern Ireland but that EU customs officials would be permitted to have a presence in the region.
He confirmed that there would be a three-month "grace period" for supermarkets and traders "in order to make sure that they are ready for any health export certificate requirements".
Mr Gove said: "The agreement respects the protocol provisions, endorsed by Parliament, that allows some EU officials to be present at Northern Ireland ports as UK authorities carry out our own procedures.
"And let me be clear, there will be no Belfast mini embassy or mission as some in the EU originally sought and the EU officials will not have any powers to carry out checks themselves."
However, the DUP has issued a warning that EU personnel in Northern Ireland must be "observers only".
The party has urged the UK government to ensure that EU personnel were "not empowered to direct matters".
The party also voiced concerns about elements of the agreement that were "characterised by grace periods and time-limited derogations".
"In particular, we will want to continue to lobby the government to ensure that at the end of the six-month period, Northern Ireland will not be required to switch suppliers away from GB for chilled meats," the party said in a statement.
"We cannot accept a situation whereby restrictions are placed on the movement of these products to any part of the United Kingdom, in this case Northern Ireland."
The DUP said that unless arrangements had the support of both unionists and nationalists in Northern Ireland, they would "ultimately fail".
"On that basis, it is imperative that on-the-ground implementation does not in any way disadvantage the people of Northern Ireland or our place within the UK market," the party added.
Sinn Féin's deputy leader Michelle O'Neill welcomed the agreement, but said she wanted to see the full details.
"It is welcome that the EU will have a permanent presence in the North to monitor the implementation and outworking of the Withdrawal Agreement and Irish Protocol," she said.
"We hope that this agreement signals that there will be a wider deal but is by no means certain and we will continue our engagements with the British government and EU in the days ahead."
Additional reporting PA